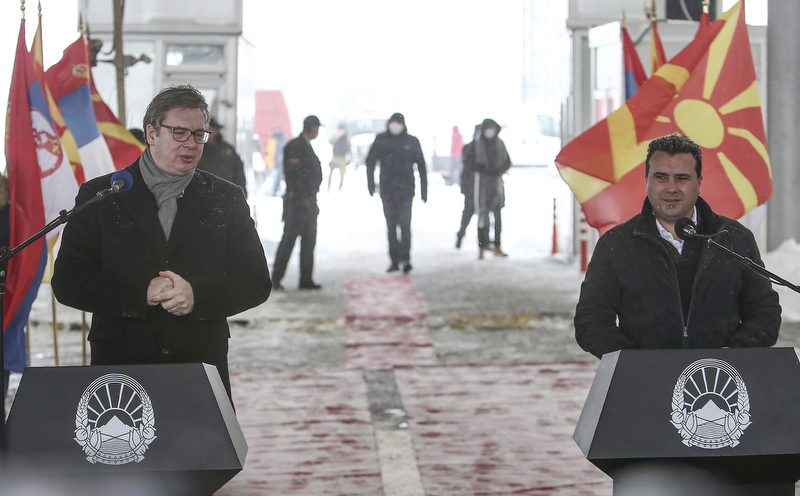 During the delivery ceremony to North Macedonia of 4,680 Pfizer vaccines at the Tabanovce border crossing, Serbian President Aleksandar Vucic stated that Serbia has no other interests than to show its friendship with North Macedonia, adding that a friend is someone who will stand by you in difficult times, in sickness and not only in health.
North Macedonia and Serbia reaffirmed on Sunday in a unique way the friendship shared by the two countries after Serbia donated 4,680 Pfizer vaccines of its own to help the health authorities of North Macedonia. Serbian President Aleksandar Vucic traveled to the "Tabanovce" border crossing to personally deliver the vaccines to Zoran Zaevunder very difficult weather conditions with snow, wind and biting cold, expressing this way that sincere cooperation, friendship and help between neighbors is irreplaceable for nations.
In his remarks later on, Health Minister of North Macedonia Venko Filipce stressed the contract for the delivery of the vaccines was finally completed on Friday night, while yesterday the tripartite documents were signed and today the vaccines will be stocked in suitable refrigerators in Skopje. The procedure within the Medicines Agency framework and the immunization of doctors and medical staff should be completed tomorrow, so that it can kick off on Wednesday at the hospital set up at the Clinical Center. The rest of the total shipment of 8,000 vaccines is expected soon.
Zaev and Vucic gave short speeches, during which the Serbian president constantly was rubbing his hands due to the cold and wind. For Zaev, vaccines represent an expression of "the friendly and neighborly hand and first aid for the citizens of North Macedonia until the vaccines we ordered arrive." According to Zaev, this gesture shows that the countries are connected to the best values ​​and never forget cooperation, friendship and solidarity.
"Our meeting today is a result of cooperation and tradition in the region to give first aid to our first neighbor, and this act strengthens relations between Serbia and North Macedonia, which were already friendly," Zaev said. He thanked Vucic and Prime Minister Ana Brnabic for "helping people and our public health system." Zaev thanked MPs Ivan Stolikovic and Miroslav Jovanovic who through their contacts with the Serbian authorities contributed in the realization of this Pfizer vaccine donation.
"We are proud to be a NATO member, but we are also aware of the lack of vaccines in the world. We are a small country together with all the countries of the Western Balkans that we made efforts and sealed agreements with Pfizer and Sinofarm from China."At the end of the week, we expect the vaccines to arrive from China to our country," Zaev said in response to a question.
Aleksandar Vucic's made similar remarks. "I am glad we were able to help," he said, with an obvious hint to the government of another neighboring country, and made it clear that "Serbia has no other interests than to show friendship with North Macedonia." We are not interested in anything but in friendship moving forward and in economic cooperation increasing."
He added that "a true friend is someone who stands by in a difficult situation, in sickness and not only in health. I think these vaccines will be enough for most doctors in the red zones." He also expressed deep gratitude: "I thank once again the brother Macedonian people, all the citizens of North Macedonia, dear Mr. Zaev who fought for your people to get your hands on the vaccines faster."
Later on, answering questions from journalists, Vucic said they had to give special guarantees to Pfizer as according to the agreement they had no right to distribute the vaccines in any way. "That's why we had to give Pfizer special guarantees regarding the way the vaccines were delivered and that the vaccines would remain intact. That was the reason behind the delay in their arrival," Vucic explained.
He also explained that it was impossible for him to get to "Tabanovce" due to the snowstorm, located about 400 km from Belgrade, "however last night we saw that we had completed all the procedures and spoke immediately with Prime Minister Zaev; I said let's meet so that people can get the vaccines as soon as possible, because I do not care if I like it today or not."
This short ceremony ended the slightly larger epic of Pfizer vaccines from Serbia, the delivery of which had previously been delayed due to specific requirements set out by the manufacturer. These are the only vaccines that have arrived so far in North Macedonia. The Chinese Sinopharm vaccines are expected to arrive in the coming days. /ibna