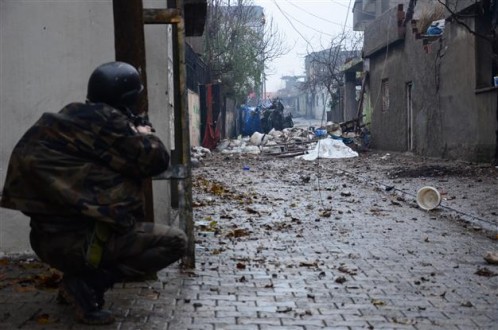 Ankara, January 11, 2016/Independent Balkan News Agency
By Manolis Kostidis
The fierce fighting that have been raging for more than two months in parts of south-east Turkey between the security forces and members of the PKK continue.
Three soldiers were killed and eight others injured in conflicts in Sur district of Diyarbakır, where street battles have been going on nonstop for 35 days with the Turkish army claiming that it controls half of the area.
According to the Turkish authorities, 465 members of the PKK have been killed in the fighting in Cizre, Sur and Silopi. In the hideouts of the PKK were found Kalashnikovs, grenades, radios, etc. The Kurds claim that among the dead are many civilians.
The Turkish Government expresses its determination that the fighting will continue until the "terrorists" are removed. The Kurds speak of violent displacement of thousands of people from the regions.
The prosecutor of Istanbul order a preliminary investigation on the phone call of a teacher from Diyarbakır at a television show of the network Kanal D. A teacher called at the Beyaz Show, which is an entertainment programme, on Friday evening and said that "innocent people are dying, the battles are raging, the people are suffering, do something to stop these things".
The pro-government Press claimed that the phone call was the work of propaganda of the PKK and accused the television network owned by the group of the newspaper Hürriyet.
Kanal D in an announced denied the charges and said that no one knew what the woman who called on the show wanted to say.