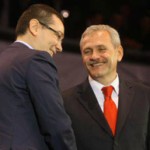 By Daniela Baragan
Today and tomorrow the Social-Democrats will elect their new leadership. Deputy Prime Minister Liviu Dragnea is running for the office of Executive President, while the rest of the PSD heavyweights will vie over 16 offices of vice president.
Approximately 4,000 delegates from all over the country are expected to attend PSD's Extraordinary Congress today and tomorrow at the Palace Hall, in order to elect their party leadership.
Theoretically, barring any surprises, the top positions are already secured, PSD President Victor Ponta being thus set to win another term at the helm of the party, while Ion Iliescu will remain Honorary President and Secretary General Liviu Dragnea will become Executive President.Andrei Alexandru, a member of PSD's District 2 branch (former aide and spokesperson of Nicolae Vacaroiu while the latter was Speaker of the Senate – editor's note), also runs for the top position within PSD. Andrei Alexandru previously ran for this office during the 2010 Congress too. Andrei Dolineaschi is the only candidate for the office of Secretary General. According to the changes brought to the party's statute, changes that will be adopted at the Congress, from now on the holder of that office will be appointed and validated by the CEx at the party president's proposal and will no longer be elected by delegates at the Extraordinary Congress as happens now.