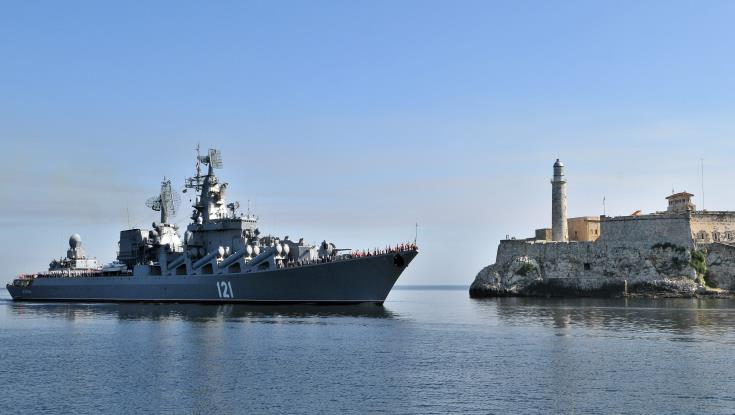 By Kyriacos Kyriacou – Nicosia
Russian, Israeli, British and Turkish military forces will all be "squeezed" in Cyprus Exclusive Economic Zone(EEZ) in the next few days, with unforeseen consequences.
Turkey has issued a unilateral naval directive, according to which, the vessel Barbaros is currently performing oil and gas explorations in marine block 3 in Cyprus's EEZ, an area however, which has been committed by Russia for a military exercise. The Cypriot government accuses Turkey for violating the island's EEZ.
The Russian navy will conduct exercises with rocket launching, opposite the Turkish vessel, beginning on Monday, October 20, in the waters east of Cyprus and of the Apostle Andrew. Russia has committed a total of 4,000 square kilometers, for the exercises and an aerial zone up to a height of 33,000 feet.
Exercises will also be performed by Israeli air force above Troodos mountains south of Acrotiri area, were a British Sovereign Base is situated.
Tornado jets from Acrotiri base are currently using Cyprus's air space to perform air strikes in Iraq against ISIS targets.
Putin meets Anastasiades
Meanwhile, President Nicos Anastasiades and Russian President Vladimir Putin met late Thursday in Milanon the sidelines of the Asia-Europe Meeting.
Government spokesman Nicos Christodoulides said that the discussion was held in a friendly and cordial atmosphere and that Putin was well aware of the Turkish provocations in Cyprus' EEZ, and the reaction of the Republic.
Anastasiades and Putin spoke at a dinner hosted by the Italian president for delegates at the summit.
Discussions focused on a range of bilateral relations between Cyprus and Russia, EU-Russia relations, as well as the Cyprus issue.
"Mr Putin reiterated Russia's principled position both as regards the solution of the Cyprus problem and the inalienable right of the Republic to take advantage and exploit its natural resources within the EEZ, describing as unacceptable any violation of the sovereignty Republic of Cyprus," said a written statement from Christodoulides.
Nicos Anastasiades also met yesterday a host of foreign leaders on the sidelines of the Asia-Europe Meeting (ASEM) in Milan, briefing them on progress in the Cyprus peace talks as well as the latest Turkish provocations in Cyprus' Exclusive Economic Zone.
Anastasiades held separate meetings with the prime ministers of Singapore and Malaysia, discussing bilateral relations and economic cooperation. Both leaders accepted an invitation for an official visit to Cyprus; the dates of the visits are to be announced.
Also on the ASEM sidelines the President met with the German Chancellor, the Austrian Chancellor, the prime ministers of China, Holland, Croatia and Ireland, the presidents of South Korea and Bulgaria, and the Russian foreign minister.
Government spokesman Nicos Christodoulides said these leaders had been aware of the situation arising from the Turkish actions inside Cyprus' EEZ, adding that the leaders expressed their "displeasure" at the violation of the island's sovereignty.