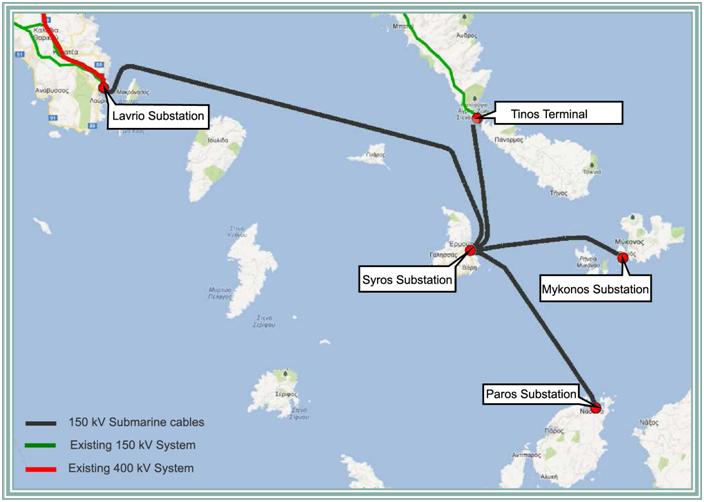 On Monday, Greece's Prime Minister Alexis Tsipras will officially inaugurate a new link that will be connecting four Cycladic islands with the power grid on the mainland.
The official ceremony will be held on the Aegean island of Syros.
The Greek state news agency ANA-MPA reports that "In the first phase, the islands to be linked up are Syros, Mykonos, Paros and Naxos. The project will cost 245 million euros and is expected to reduce the cost of supplying power to the islands by 80 million euros a year. Later phases to be concluded in 2019 will see an upgrade of the links to Naxos, Andros and Tinos, while a second cable to Syros will be laid in 2020, as well as a first, 'small' connection to Chania, Crete via the Peloponnese."
Thanks to this connection, the cost and the environmental impact of power supply to Greek islands will be reduced to a great degree.
Islands that are not on the mainland grid consumed over 80% of the power used by in 2017 which "was generated by expensive and highly polluting oil-fuelled power stations", however, because of the positive results of a pilot project concerning the connection of those islands to the mainland power grid since the beginning of 2018, now this connection can be officially established.
Tsipras, will be accompanied by Environment and Energy Minister Giorgos Stathakis and the managements of the Public Power Corporation (PPC), the Independent Power Transmission Operator (ADMIE) and Hellenic Electricity Distribution Network Operator S.A (DEDDHE)…. / IBNA