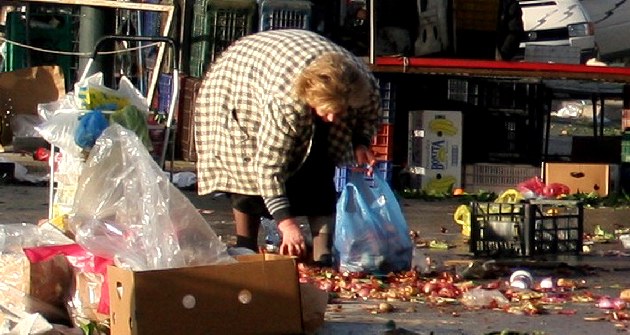 By Spiros Sideris – Athens
Greece is in fourth place among the 28 member countries of EU with the highest proportion of people in poverty in 2013, according to the Hellenic Statistical Authority.
According to the statistical office report, the percentage of Greeks who lived in poverty (income below 60% of the national median disposable income) last year amounted to 34.6% or 3,795,100 persons. Indeed, this rate has been increasing since 2010 and the first Memorandum (27.6% in 2010, 27.7% in 2011, 31% in 2012 and 34.6% in 2013).
Worse off than Greece, are only Bulgaria (49.3%), Romania (41.7%) and Latvia (36.2%).
In the other EU countries that have been implicated in Memoranda, 30% of the population in Ireland lives under the poverty line, 28.2% in Spain, 27.1% in Cyprus and 25.3% in Portugal.
The five countries with the lowest poverty rates in the EU "28" are the Netherlands (15%), Czech Republic (15.4%), Sweden (15.6%), Finland (17.2%) and Luxembourg (18.4%). The average rate in the European Union amounted to 24.8% and 23.3% in the Eurozone.
It should be noted that, based on more data by ELSTAT, the poverty risk has increased significantly in Greece after 2010 and the relative poverty rate increased by 3.4 percentage points or 17.3%.
Meanwhile, the poverty gap increased by 24.1%, while the risk of poverty or social exclusion has increased by seven percentage points or 25.4%.