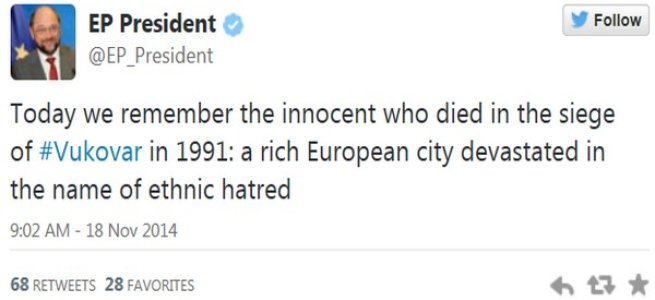 By Marija Avramovic – Zagreb
On the marking of the passing of 23 years since the fall of Vukovar, the state leadership appeared united and dignified as they should be, but then a menacing letter from Serbia arrived to the Croatian media. The letter was from Vojislav Šešelj, who was recently released from the detention center of International Criminal Tribunal for the former Yugoslavia (ICTY) in Hague.
After 12 years, Šešelj got out and picked-up where he had left off with his warmongering rhetoric, celebrating in the letter the "deliberation of Serbian Vukovar from ustasa military formations".
President Ivo Josipovic wrote on his profile on Twitter: "after the shameful announcement on the day of remembrance of the victims of Vukovar, Seselj should be returned to Hague".
The representative of the European Parliament Tonino Picula said he was ready to start a hearing before the Committee on Foreign Affairs on a resolution which would bespeak on the reasons why a war crimes suspect ongoing hostile rhetoric is unacceptable.
ICTY chief prosecutor Serge Brammertz was in Belgrade yesterday and after the meeting with Serbian Prime Minister Aleksandar Vucic said that the cooperation between the ICTY and Serbia was "at a very high level and there are no unresolved issues".
Josipovic already wrote to the ICTY President Theodor Meron, on the cases of Vojislav Seselj and Slobodan Milosevic at the Hague tribunal who were indicted for war crimes, but whose trials weren't completed represent a defeat of justice and international law therefore the loss of public's confidence in international jurisprudence.
Some Croatian politicians argued that Croatia should have reservations on Serbia's progress in the negotiations with the EU regarding new indictments and trials for war crimes, but Foreign Minister Vesna Pusic says this is not the course Croatia will follow and that "it will not place any additional conditions for Serbia's path towards the EU".