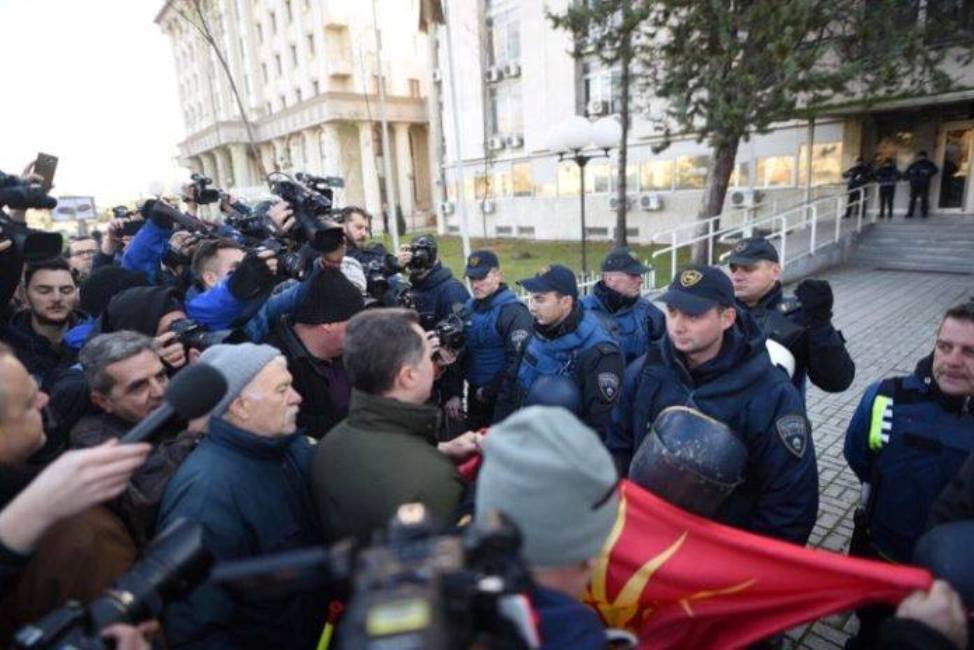 On Tuesday, November 28 in Skopje, the Public Prosecutor's Office for Organised Crime and Corruption announced that it had completed the pre-trial procedure for the violence that occurred in Parliament on
April 27th
 2017, and opened an investigation against a total of 36 persons.
The Prosecutor's office says 36 people are suspected of "terrorist endangerment of the constitutional order and security", in connection to the events of 27 April 2017, in Parliament.
The statement does not mention the individuals (suspects') IDs, however, what is certain, is that the former Interior Minister and the Director of the Public Security Bureau (BJB), Mitko Chavkov, actor Vlado Jovanovski, MP Krsto Mukoski, Goran Angelov-Koseto from Veles, MP Žaklina Stefanovska, MP Ljuben Arnaudov from Ohrid and others, were all taken into custody this morning.
At the moment, they are at the Criminal Court where they will testify before a judge for a preliminary hearing.
According to the Criminal Code, the punishment for this crime is at least ten years.
Gruevski reacted to the action of the Ministry of Interior and the Prosecution who arrested 36 people this morning – participants in the violence in Parliament on April 27th, 2017.
Photo: VMRO DPMNE head Nikola Gruevski, in front of the court building/MIA
"Zaev and SDSM are brutally attacking those who think and act Macedonian. This is the last act of a free-thinking Macedonian and citizens who dare to state their position against the Tirana platform and the violence of this government against anyone who thinks as a Macedonian", said the opposition leader of VMRO-DPMNE  at a press conference at the party's headquarters.
VMRO-DPMNE has called upon its party members and supporters and all citizens that disapprove of -as the party states- "the anti-state policy of the ruling junta", to come out to protest in front of the Basic Court Skopje…/IBNA