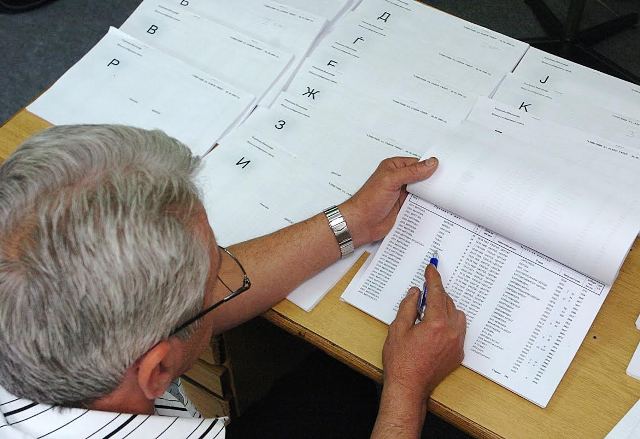 Skopje, 21 March 2016/Independent Balkan News Agency
By Naser Pajaziti
330,549 voters appearing in the voters' list in FYROM are suspicious. This has been underlined in the report approved by the State Election Commission (SEC) in relation to the adjustment of the voters' list in the country.
Out of them, 110,440 will be verified on field while 62,837 will be verified in an administrative way. For the 124,072 voters from the Diaspora, SEC has decided not to make any verification, as according to the majority of the commission's members, their right of vote is contestable.
For the members of SDSM (Macedonian Social Democratic Union), all these people must be checked to remove any doubt. Their proposal has not been accepted by the majority of members in the State Election Commission.
"Nobody is asking for these people to be hidden, but we cannot be sure that all of them are abroad, therefore this must be verified", said SEC member Igor Milev.
Silvana Boneva, member of SEC from VMRO-DPMNE is against the verification of those citizens who have migrated abroad.
"I would like to explain that these are our citizens and that not everyone is temporarily abroad. Those who are abroad, have notified the Ministry of Interior, while for those who have not notified, we cannot check all 124 thousand if they are abroad for a period more than 30 days", Boneva said.
The recent data published by SEC are different from the initial report issued by experts, which stated that there were over half a million suspicious voters in the country. But, members of SEC explained that that report was an initial one and that it wasn't drafted based on the data of the Ministry of Interior. SEC said that following the approval of the report, contestable voters will start to be verified on field.
Dzabir Derala of CIVIL NGO told IBNA that it is difficult to carry out verification and to adjust the voters' lists based on the deadlines for the June 5 elections.
"What came out in relation to hundreds of thousands of voters shows that the process is complicated. I don't think that we will have elections on June 5, as the entire list must be adjusted", Deralla said.
According to him, this situation is being damaged by the obstructions caused by political parties in order to buy more time until the elections. Tens of civil associations, but also opposition parties have said that without the adjustment of the voters' lists, there will not be fair and democratic elections.
OSCE has praised the approval of the report by stressing that the adjustment of the electoral list is an important requirement for credible elections.
The adjustment of the electoral list is a requirement stemming from the June 2 political agreement reached last year, which brought the country out of the deep political crisis. /ibna/