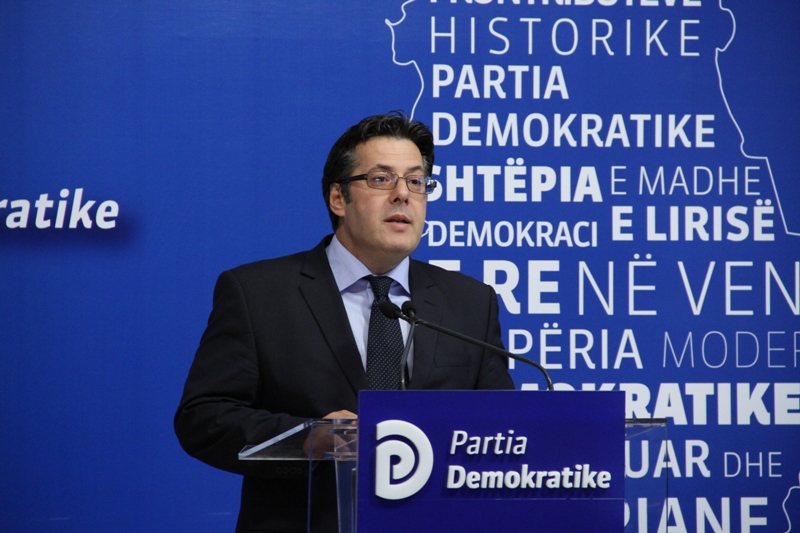 UPDATED
Tirana, October 10, 2014/Independent Balkan News Agency
The head of the opposition parliamentary group in Albania, Edi Paloka, denounced today the decision of the majority, which according to the opposition, excludes democrat MPs out of the Geneva Summit.
"Parliamentary majority has undertaken another act against the Albanian opposition, by excluding it from the permanent delegation of the Parliament of Albania in the Inter  Parliamentary Union (IPU)", said Mr. Paloka (photo).
The head of the opposition MPs refers  to the General Assembly of the Inter Parliamentary Union, which is the highest level organization which gathers parliaments from all over the world and which is scheduled to take place from 12 to 16 October.
In this Union, Albania is represented with its permanent parliamentary delegation, which consists of representatives of the majority and opposition and all other delegations that represent Albanian Parliament in the European Parliament, Council of Europe or OSCE.
But, the opposition says that it has been excluded from the parliamentary delegation.
"The opposition was not informed on this important activity organized by IPU, but in complete secrecy, as if he was owner of the parliament of Albania, Ilir Meta ordered the appointment of a delegation as he wanted the delegation to be", said Mr. Paloka.
According to him, "the scope is to deny the opposition the right of participation, speech and vote in the IPU, rights which are given to it by the rules of this international institution".
Paloka said that this act comes only two days after the European Union called on the parliamentary majority in Albania to enable the opposition to exert its lawful activity in parliament.
So far, parliament and the speaker's office have not issued any reactions about the opposition's claim.
Parliament reacts, it puts the opposition back into the delegation
The speaker of parliament, Ilir Meta commented today the accusation of the opposition, which claims that it has been excluded from the permanent delegation of the Parliament of Albania in the Inter Parliamentary Union.
Meta accused the opposition of boycotting all the activities in parliament and mentioned cases, where according to him, DP "has annulled its presence in the delegation at the last minute, thus putting parliament in a difficult position".
"The opposition wants to turn a technical issue into a political one, in order to give the impression that it's being persecuted by the majority for political reasons. We're not only dealing with the issue of participation, but with the lack of coherence by the opposition, which on one hand declares that it has boycotted parliament activities and on the other accuses parliament for non participation", said the speaker of parliament.
Meta said that he will communicate with the administration of the Democratic Party for every international activity, including the Geneva summit. /ibna/