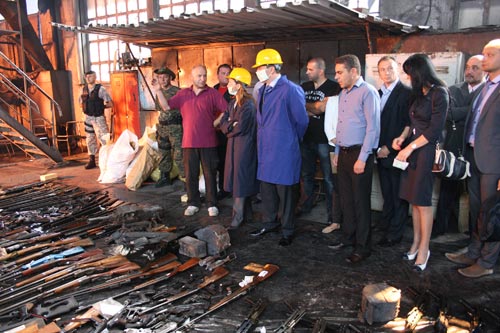 Skopje, July 9, 2013
Around 300 kg of narcotic substance and a significant amount of weapons have been destroyed today in Tetovo under the supervision of the Minister of Defense, Gordana Jankulovska and the Minister of Justice, Blerim Bexheti.
Amongst the destroyed materials and narcotic substance were marijuana, cocaine, heroin, Viagra and different types of weapons.
The operation of destruction was carried out in cooperation with the Minister of Justice and the Ministry of Interior.
"345 types of weapons have been destroyed along with 226 kg of marijuana, 60 kg of heroin and 15 thousand ecstasy pills", said minister Jankulovska. According to her, the majority part of the drugs which was seized had been discovered on the border crossing point and was destined for western European markets.
The Minister of Justice said that this action has been carried out in cooperation with the Agency for the management of confiscated assets.  "We have established the commission from the Ministry of Justice in cooperation with the Agency for the Management for the Confiscation of Assets. This activity is being realized in a transparent way and this way, we avoid narcotic substances and weapons", said Minister Bexheti. /ibna/