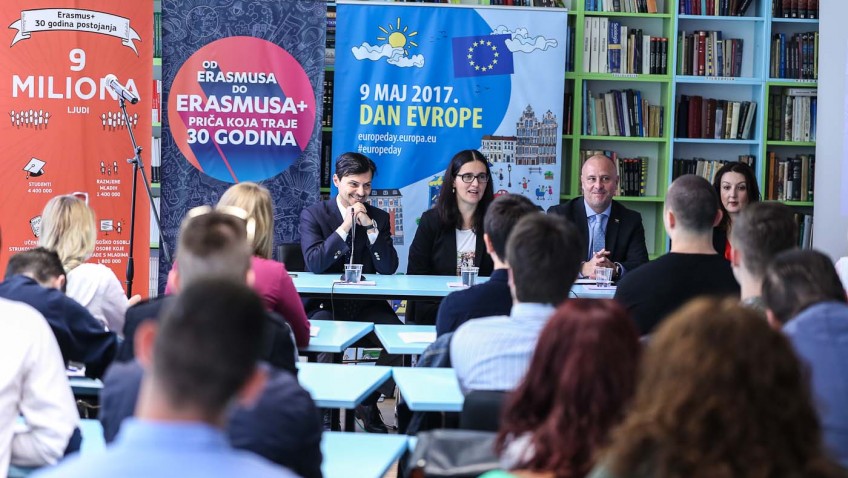 The EU Info Centre in BiH and Italian Embassy in Sarajevo, on the occasion of the 30 anniversary of Erasmus+ programme, organized in Sarajevo a discussion panel about this EU programme benefits and achievements.
Khaldoun Sinno, Deputy Head of the Delegation of the European Union to BiH, said that Erasmus+, by his opinion, is one of the most successful programmes the EU has launched.
"It would be an understatement if I say it hasn't been a life-changing experience for me. It is much more than a student exchange programme; it contributes to the development of academic and social skills, broadening horizons, gaining insights in new academic cultures, and bringing all this back to your home country. We rely on you, students, to take BiH towards the EU. It is your generation that will benefit from the EU membership, said  Sino reflecting on his rewarding Erasmus experience.
The event featured a panel discussion with Ambassador of the Republic of Italy to BiH, Nicola Minasi, who recalled the opportunities his personal Erasmus experience opened.
"When I finished my Erasmus exchange programme, I decided to establish an association of political sciences together with a few of my fellow students. At a later stage, this association grew into an international association of political sciences. This is just an example what students can do when united", said Ambassador Minasi.
He added that the Erasmus+ programme is an amazing tool which can make ideas come true and help you discover new things. It is an occasion to learn and to grow, emphasized Minasi, as well as to create new realities and engage with other fellow associations and students worldwide".
Professor at the Faculty of Political Sciences in Sarajevo, Nedžma Džananović Miraščija, used this opportunity to present the PoSIG Joint Master in Political Science – Integration and Governance, funded under the Erasmus+ programme, reminding that the first admission applications for the programme are opened until 21 May.
The participants had the opportunity to watch an inspiring video presentation by a journalism student from Sarajevo, Samir Beharić, who gave an insight to his current experience in Rome where he is exercising his Erasmus+ exchange.
As it was announced from EU Info Centre BiH, other former Erasmus+ beneficiaries involved in the panel discussion, Lejla Lizda, Hidajeta Kurtić, and Enrico De Muja from Bologna, agreed that the Erasmus+ exchange programme brought about positive changes in their lives, also enabling them to become the best Erasmus+ ambassadors in their home countries.
The event gathered around 60 participants, representatives of the BiH academic community, local and international students, and former beneficiaries of the Programme.
In this year, EU celebrates the 30th anniversary of Erasmus which started as a higher education mobility scheme and has since evolved into a broad programme supporting students, pupils, volunteers, apprentices, teachers, youth workers, athletes as well as educational institutions and other organisations from the field of education, training, youth and sport./IBNA