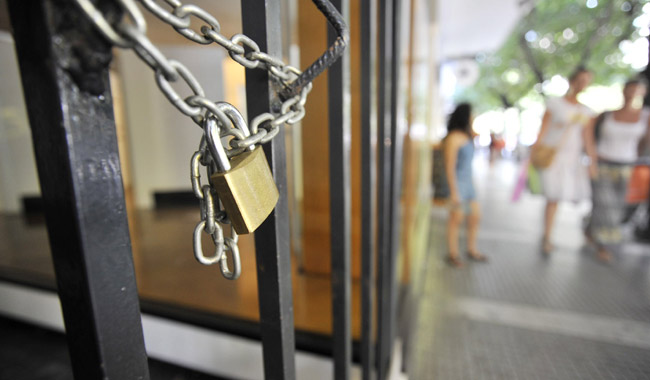 By Kyriacos Kyriacou – Nicosia
Nine months after the Eurogroup meeting and the shocking austerity measures decided for Cyprus, capital city Nicosia remains worried about the situation and the future.Damaged psychology, rising unemployment and a dramatic reduction in salaries and pensions have frozen the market. Some restaurants and café – bars, in and out the old city, are busy. But many small and medium businesses, such as shops, kiosks and bakeries, have bankrupted.
According to the latest estimations by the Cyprus Federation of Small-Medium Enterprises, 30% of small businesses have closed down, over the last three years.
"The economy has collapsed, the streets are empty and my business is close to bankruptcy", said to Independent Balkan News Agency, shop owner Yiannis Andreou. Meantime, beggars are multiplying at night in Lydra Street, the most famous street in down town Nicosia. "I often see a woman and a man taking food out of the trash", Andreou stated.
"Since the government decided to extend working hours, my income has dramatically reduced. This measure benefits Malls, which now work seven days a week, harming small businesses such as bakeries and kiosks", said bakery owner George Christodoulou, adding that the measure should be reconsidered.
Shopkeepers rely on sales during Christmas celebrations to compensate for lagging months throughout the year. "Events organized by local authorities are also helpful to us because they attract people", shop owner Magda Alexandrou noted.
Cyprus Central Bank has recently relaxed some domestic-banking restrictions. The cash limit on withdrawals remains 300 euros a day. However, use of standing orders and direct debits has been restored. Such measures are needed in order to restore confidence and defrost the Cypriot market. Until this happens many people believe that Santa Claus would not visit Cyprus in New Year's Eve.