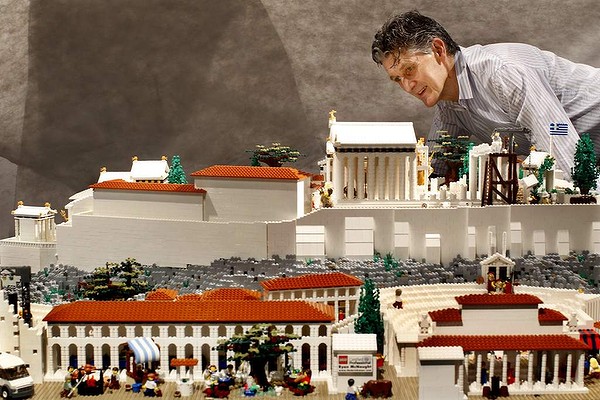 Lego Oedipus, Lego Lord Elgin and Lego Sigmund Freud are on their way to Greece, part of an extraordinary gift from the University of Sydney's Nicholson Museum to the Acropolis Museum in Athens.
The figures are a small part of a Lego Acropolis built by Ryan McNaught, the only Lego-certified professional in the southern hemisphere. It contains more than 120,000 bricks and took about 300 hours to build. Faithfully recreated in gleaming white bricks, the model features the Parthenon, the Temple of Athena Nike, the smaller Erechtheion temple and the site's monumental gateway, the Propylaea.
It also contains hilarious modern and ancient scenes using Lego mini-figures. In the small Odeon, Theseus winds his way through a labyrinth to face the Minotaur. In the Odeon of Herodes Atticus, Elton John gives a concert to modern-day tourists. Lord Elgin and his crew make off with the Parthenon marbles, while Freud, who visited the Acropolis in 1904, looks on.
The model has attracted more than 100,000 visitors to the Nicholson since it was unpacked a year ago. This came as no surprise after the museum's Lego Colosseum attracted 90,000 visitors in 2012. But the interest from Athens came as a shock.
Michael Turner, senior curator at the Nicholson Museum, says the Acropolis Museum emailed him "out of the blue" asking if it could borrow the model to attract younger visitors.
"This could only happen in my wildest dreams," Turner says. "After a largely sleepless night, I got back to the museum and said no, they couldn't borrow it … we'd give it to them."
The $US200 million ($212 million) Acropolis Museum, opened at the foot of the Acropolis hill in 2009 with a direct view of the Parthenon, is home to all the archeological finds from on and around the Acropolis, including what was left of the Parthenon sculptures left behind by Lord Elgin between 1801 and 1812. Those he took are now in the British Museum and are a topic of intense international controversy and debate.
"The British Museum refuses to return the Parthenon Marbles; the Nicholson Museum and University of Sydney donates a whole Acropolis!" Turner jokes. "Of all the museums in the world I would like to see the Lego Acropolis end up in, this is without a doubt the one and only."
The model will arrive at the Acropolis Museum this week and makes way for the Nicholson Museum to present a new model, Lego Pompeii, in January.