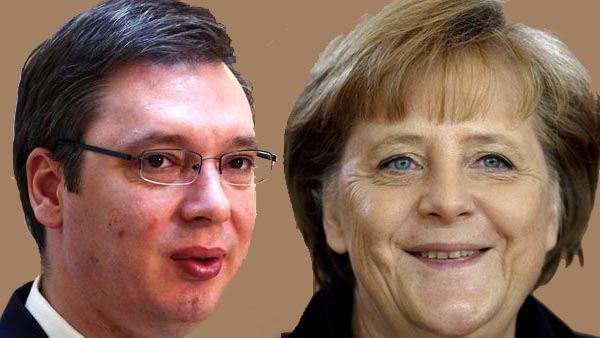 By Milos Mitrovic – Belgrade
Last week's announcement by Chancellor Angela Merkel that Germany will organize a conference on Western Balkan countries may be interpreted as Berlin's willingness to take responsibility over the region which partly is the result of Ukraine crisis, Predrag Simic, former Serbian diplomat and professor at Belgrade's Faculty of Political Sciences says. Last week Ms Merkel said that the purpose of the conference, which is scheduled for the end of August, would be for Berlin to "make it clear" it intends to support Western Balkan, which should be "future-oriented" along with Germany.
Professor Simic underlined for Belgrade's "Danas" daily that Germany has taken the leading role – both in economy and politics – in the European Union during the Eurozone crisis. However, Berlin is in a difficult situation over Ukraine, he added.
"Germans have to be very proactive both in the Balkan and the EU if they want to avoid Europe finding itself in world's periphery as it was the case during the Cold War. It's not in the German interest to spoil its relations with the Russians, and in that segment Berlin has a different approach than the United States. At this moment, Germany is between hammer and anvil, much like Serbia, which strives to preserve its neutrality on the Ukraine matter. Therefore, Berlin is the place Belgrade should rely upon in regard to the Serbian EU accession, but at the same time this means that Serbia should stick to the preconditions outlined by Germany", Simic concluded.
Serbian Prime Minister Aleksandar Vucic will pay a visit to Berlin on Wednesday upon the invitation of Merkel. On Saturday, Merkel has underlined in her video message she and Vucic will discuss Serbia's "further pathway". German Chancellor admitted she was surprised with the progress achieved in the process of normalization of the relations between Serbia and Kosovo.
On the other hand, Merkel suggested there are still "productive tensions" between Berlin and Belgrade regarding Kosovo.
After Vucic's Progressive Party secured a landslide victory in March elections, Merkel's Christian Democrat Union (CDU) Bundestag official Phillip Missfelder has said Serbia will have to recognize the independence of Kosovo.
Nonetheless, the chancellor refrained from direct messages. She expressed her belief that Serbia will embark on a practical path for the improvement of the relations with Kosovo. "Taking a look at history, we can tell that such changes are acceptable, while certain changes are slow", Merkel said.
Vucic: Serbia will be a reliable ally for Germany
On the eve of his visit to Berlin, Serbian PM Aleksandar Vucic said that the "delegation of the serbian government (in Berlin) will behave seriously and responsible".
"Serbia will be the a reliable ally (of Germany). It's inappropriate to talk about some great partnership, considering the strength of both, Serbia and Germany. However, Serbia's intention is to become Germany's ally and we are proud to say it. Serbia was not in a position to make such a choice before", Vucic said at the press conference in Belgrade today.