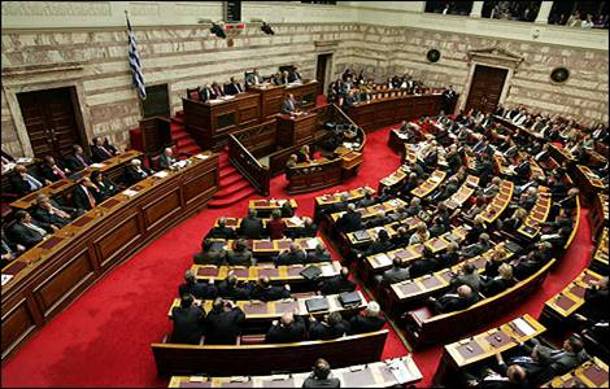 Review Hari Stefanatos
SYRIZA's opposition to the possibility of terminating the Plenary's sessions and for the Summer Departments to begin their work, expressed the party's parliamentary spokesman Panagiotis Lafazanis.
Mr. Lafazanis who met with the President of Parliament, Evangelos Meimarakis, regarding the matter, asked to not go through with such a decision.
"We condemn the government's intentions to terminate the Plenary sessions, if the reports that speak of a rushed termination of the Summit are confirmed", Mr. Lafazanis said to reporters .
"We believe that if the government wants to terminate the Plenary sessions, this should be done only for elections".
He also stressed that the government has no political right to make such a decision, by bypassing the parliamentary procedures and stressed that the discussion of important bills, such as the foreshor , the question of the debt negotiation, is still pending,  in addition to the crucial cases for which the Ethics Committee of the Parliament must decide on the waivers of immunity.
The Parliamentary Group of the Greek Communist Party (KKE) in a statement on the closure of the Plenary proceedings and the beginning of the Summer Departments states that "the Communist Party has repeatedly stated that bills of general importance should be put forward only in the Plenary of the Parliament, in order for all MPs to take responsibility for them".
"In any case, the people must be vigilant. The anti-labor – unpopular measures will continue both in the Plenary and in the Summer Departments, so long as the country and its government, like today, will continue to move on the known unpopular way", says the KKE's Parliametary Group, concluding that "the organization and development of the workers' struggle, of the working classes with the people's alliance, is the only force to counter this attack".
Tough attack against the government on the occasion of the closing of the Plenary was launched the "Independent Greeks" party, a development they associate with the possible "measures ordered by the troika", while they make implications for the potential statute of limitation of certain offenses.
Specifically, the spokesman of the party, Terrence Kouik stressed that "while one after the other the lenders talk of new loans with new memorandums and at the same time the reduction of supplementary pensions is announced, the government is rushing to close down the Parliament in order to pass "bloodless", through the summer departments, the measures ordered by the troika". Mr. Kouik even wondered "whether the statute of limitation is one of the reasons behind this act".
In a statement, the Democratic Left Party (DIMAR) says that "in light of the new measures, critical bills and with the reshuffle imminent, the government rushed to declare a surprise end to the sessions of the Plenary. Once again, institutional acquired are sacrificed on the altar of petty political party designs".
(Source: In)