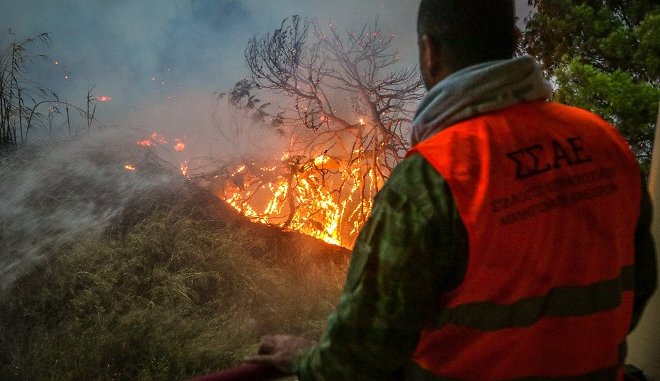 Greek authorities confirmed 49 people were killed and over 150 injured in two major wildfires that broke out in Attica, Greece on Monday afternoon. The fires were burning forests and homes in the areas of Kineta and Rafina throughout the night, east and west of the Greek capital respectively. Efforts to pout out the blazes were hampered by strong winds.
The wildfires are being described by local media as the worst to hit Greece since 2007, when dozens of people were killed in southern Peloponnese.
Firefighters, residents, local authorites and Greece's armed forces were locked in firefighting and rescue missions. The Navy used ships to collect and host people that rushed to the beaches protect themselves from the blazes in Rafina, Zouberi and Mati.
The Mayor of Rafina stated that the situation is not yet clear, raising fears that the death toll could rise.
Greece issued an appeal for help to tackle the fires, saying that it needed air and land assets from its European Union partners. Cyprus, Italy, France, Germany, Poland and Spain offered assistance.
Flights at the Athens international airport were cancelled as planes landing in the capital were instructed to land elsewhere due to strong winds and low visibility from the smoke that covered Attica.
Prime Minister Alexis Tsipras interrupted his visit to Bosnia. In a statement in the early hours of Tuesday he said it was "a very difficult night for Attica", adding that the region and the State were found facing an "asymmetrical phenomenon".
He stressed that the strong winds have played a key role in the current situation. According to the PM, 300 fire service vehicles and 600 men are operating to contain the wildfires. Tsipras added that there is a coordinated effort by all public services and that the Army will also be involved in the effort to control the fires.
New Democracy leader Kyriakos Mitsotakis was briefed +by the Secretary General for Civil Protection.
Citizen Protection Minister Nikos Toskas said the fires are "not so innocent", suggesting that arsonists were behind the blazes./IBNA