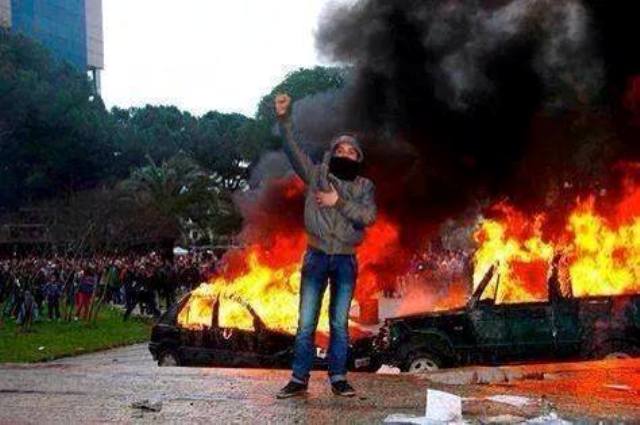 IBNA Special Report/In Albania, the 21 January 2011 events continue to be filled with mystery. The government says that it's running out of patience with the Albanian justice system and says that it's looking for "an alternative mechanism". Edi Rama targets Sali Berisha as the person responsible for January 21 events. On the other hand, former PM Berisha says that he's the most interested person for the "January 21" case to be solved. Meanwhile, he accuses Rama not only of not being interested, but he accuses him as a person directly involved.
Tirana, January 23, 2015/Independent Balkan News Agency
By Edison Kurani
Rama: A new alternative of seeking justice
In contrast to other years, this year, PM Rama briefly talked about "January 21". He announced for the first time that a new way is being sought in order to do make justice for the January 21 events.
"Four years after the murders of four citizens in the 'Martyrs of the Nation' boulevard, justice is the only thing that can close January 21. It's time to seek a new alternative of justice", wrote PM Rama on Facebook, while he was waiting for the families of the four victims of January 21, 2011 in the government building.
However, Mr. Rama didn't offer any details as to what this new mechanism was.
The Minister of State for Parliamentary Relations, Ermonela Felaj talked about this mechanism: "If justice that January 21 deserves continues to be delayed, Albanians must rest assured that an alternative mechanism will put the justice system on the right track in regards to this issue".
The state "takes responsibility about the murder of four citizens on 21 January 2011"
Meanwhile, minister Felaj announced that "the Albanian state takes full responsibility for the murder of four Albanian citizens in the main boulevard of Tirana".
Felaj didn't provide any details as to what "taking full responsibility" means. She said that the "first legal step through which the Albanian step takes full responsibility is the government decision to allocate a special pension for the families of the four victims of January 21".
Duma: Rama is not bringing forward the responsible people
The Democratic Party has considered the homage paid by the Prime Minister for the January 21 victims, a show, while it considered the engagement of civil society as fake.
Secretary for Public Relations at the Democratic Party, Grida Duma, invites Rama to shed light upon the truth of the murder of four people. "Four people were killed on the boulevard and people must take responsibility for this. Why aren't the responsible people being brought forward?
Berisha: This is who organized the coup d'etat
Former PM Sali Berisha comments the 21 January 2011 events, a day when following a demonstration called by Edi Rama, a part of the protesters attacked law enforcement forces while gun shooting from the Republican Guard claimed the lives of four unprotected people.
Berisha says that what happened was a coup d'etat. "In the past 80 years, 21 January 2011 was the worst day of the history of the Albanian state, when irresponsible politicians wanted to violently overthrow the head of a government, a government which was elected with the votes of the Albanian people. This act is registered in history as a coup d'etat against constitutional institutions".
Berisha said that people were paid in that protest to overthrow the government: "Paid men and others who were not paid, were brought that day in the protest with one motive "let us overthrow Sali Berisha".
The former PM says that the most interested person to do justice "was surrounded in violation with all laws and the Constitution of the country for five hours with the only scope of removing him from office through the use of force".
As far as the four victims are concerned, Berisha says that this was a misfortune and adds: "I have said this then and I say it now that no institution elected by the people can be taken".
Berisha says that justice must be made for "January 21", but according to him, this is prevented by several people. "Justice cannot be made, because Edi Rama is responsible for this act. He brought people, as their relatives have testified, to overthrow a government through the use of force. Involved with this was the former head of the state (Bamir Topi), who had come to an agreement to be elected for another term in office and General Attorney (Ina Rama) who wanted Edi Rama to dominate".
Former President: Politics is guiltier than the justice system
Former President of Republic, Bamir Topi has a very different view from former PM Berisha. According to him, politics is guiltier than the justice system. "Nobody can accuse the justice system today. This seems a paradox, seeing how the justice system functions in Albania. Today, all political sides are to be accused, because four years later, I, as former head of state and one of the persons accused for a coup d'etat on January 21, can see that there hasn't been a political trial of January 21 and this political trial must be made in parliament. The fact that everyone is keeps quiet today, shows that there's no reason of accusing the justice system, because unfortunately, justice is once again being used by politics".
Through an ironic tone, former president Topi proposes a medal to be given to former PM Berisha: "I would propose to the political class to give a medal to Sali Berisha for his bravery and merits, today after four years, given that it's not busy dealing with January 21 event. On January 21, he fulfilled two things: two innocent men were murdered from the windows of the government building and strong accusations came out of the prime minister's office against the state institutions".
To what extent did the Republican Guard break the law?
Berisha says that the Republican Guard applied the law and what's more, a law which was voted by the Socialist Party before Berisha came into power in 2005: "The Republican Guard is governed by a law. Why didn't these gentlemen amend the law? They said that they would amend it. This law is theirs, not ours. Fortunately, that law was not approved by us, but by the SP".
Berisha explains why did "January 21" happen: "Didn't this revolt and violence happen as a result of Ilir Meta's notebook? Weren't they forced to say that they had edited the video to damage Sali Berisha? Is Ilir Meta more important today than he was at that time? Today, Ilir Meta is Albania's no.2 and on the protocol, he's more important than Edi Rama".
Tahiri: Why is justice still not reacting?
Minister of Interior, Saimir Tahiri says that four years later, January 21 is the "darkest day for the justice system". He says that it's unacceptable that "while four years ago 4 citizens were killed, not a single person has been brought to justice up until today".
"A crime was committed by those who killed. A crime was committed by those who ordered it. A crime was committed by those who politically covered it. A crime was committed by those who didn't make justice and who didn't convict anyone. It will be a crime until justice is done". Therefore, Tahiri raises a question: "What is being done? Why is the Prosecution keeping quiet? What's the reason that the inquiries are not being finalized?"
What's happening with the justice system? Is there an investigation?
Former PM Berisha says that the inquest over the January 21 events has started since 2011. "The investigation started and international specialists were brought over", says Berisha. But, according to him, Edi Rama didn't testify. "Prosecution led by Ina Rama, did not subpoena Edi Rama to testify and both of them, blocked this process".
Minister Tahiri shares the same opinion that a full inquest is needed. He says that prosecution started a full inquest several months ago, but no reply has been issued yet.
The minister says that "the silence of the institutions is an even bigger crime".
The General Prosecution has not reacted in the recent days over these political accusations. This institution filed charges a while ago against the heads of the Republican Guard and several officers of the Guard, demanding their conviction for the January 21 events. Courts issued soft sentences for the defendants, while the prosecution could not prove its charges and the defendants were convicted for careless manslaughter.
Sejamini: A commemoration of the cruel and absurd violence
The involvement of analysts in relation to the January 21 events this year was not that great. Neritan Sejamini, former adviser to PM Berisha, says that January 21 is a sad day for everyone and adds: "It's not only a memory of the cruel and absurd violence against innocent people in the name of personal power, but above all, a shocking and dramatic testimony that in this country, crime is never punished , even when innocent people are killed in front of live TV cameras".
For Sejamini, January 21 of this year is also "the image of today's government people who "show off" by speaking in the name of the law when they don't have to deal with weak and unprotected people, but who lower their head to look as if they are touched, when they have no courage or interest to face "the strong ones"!".
Ngjela: Rama is following Berisha's and Hoxha's path
Former minister of Justice, Spartak Ngjela and leader of the Party for Justice, who entered an electoral coalition with Edi Rama and after the left wing won, he withdrew. Ngjela attacks PM Rama and his ally Ilir Meta for the killings of January 21, 2011. He blames PM Rama when he says: "The philosophy of after January 21, 2011 was the following: To turn Albanians' victimization into victory".
Ngjela considers Rama has his predecessors, Berisha and Enver Hoxha.
"Yesterday, in the commemoration of the victims of January 21, the Albanian PM played the role of the victim. Berisha used to do the same thing when he commemorated victims of communism, some of whom he, himself, had denounced. Even Enver Hoxha used to cry over the heroes of the nation that he, himself had killed."
Citizens are skeptic
Many people saw live what happened on January 21, 2011 in the center of Tirana. Many others saw them on live TV. Therefore, even today, many of them ask: "How is it possible that the event that was shown on live TV not to be solved by justice?" Skepticism has grown as much as people have grown tired of the absent justice. /ibna/