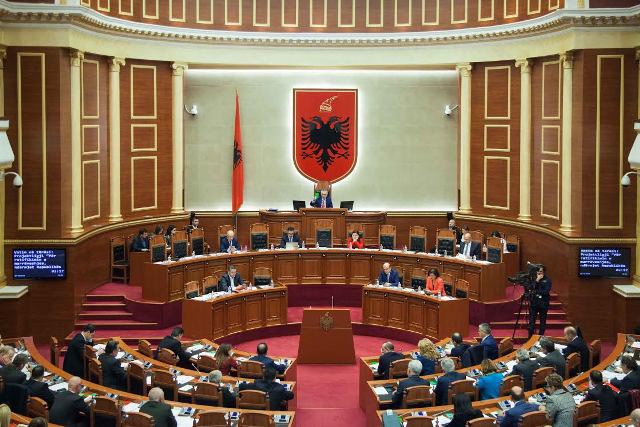 Next year's budget is voted only by the majority, opposition boycotts
The parliamentary session, where the 2017 state budget was approved in principle, lasted for more than 16 hours. This session turned into a parliamentary marathon, where a part of it was accompanied by debates, while the rest was accompanied by speeches that saw a declining interest.
The voting took place in the early hours of Friday and the draft received 82 votes, thus showing a clear consolidation of the left wing majority.
The opposition refused to participate in the voting as it considers this as a failed budget. According to the opposition, the budget will further impoverish the Albanian people.
Meanwhile, the majority considers is as the budget of reforms and the increase of salaries. The Socialist Party parliamentary group, the main governing political force led by PM Rama, came out in support of the draft.
Next year's budget is estimated to be 467 billion ALL. From 71.3% of GDP, public debt will go down to 69.1%. According to projections, economic growth will be around 4% as opposed to 3% this year.
According to the minister of Finance, Arben Ahmetaj, this is the first time that there's a budget surplus, that it reduces public debt and funds the increase of salaries and pensions.
PM Edi Rama sees this as a budget that brings real economic growth. "Today, from an economy which registered economic growth ranging from 0 to 1%, this year, growth will range from 3,3 to 3,5% and it will continue to grow. At the same time, we had to pay 720 million USD worth of debts that were kept hidden when we assumed office", Mr. Rama said.
Rama said that the budget consolidates public finances and helps the citizens.
"With this budget alone, we put 100 million USD in the pockets of the citizens. Meanwhile, by decreasing profit on personal income, we give to the public and private system 440 million USD for a period of four years", Mr. Rama said.
But the opposition has a different opinion. Former minister of Finance in all right wing governments, Ridvan Bode, says that the increase of salaries and pensions was just an "electoral lemonade". According to him, the budget increases taxes by 1,5 billion USD, it increases public debt and it further impoverishes Albanians.
Bode said that the government has failed with excise, taxes, price of fuel in general and especially in agriculture and its claims for the removal of the tax for small businesses or the opening of 300 thousand new jobs.
The former minister and current democrat MP, said that currently, small businesses pay two times more than they used to pay in the form of local taxes, services, municipality fees, cleaning fees, etc.
***
The 2017 budget had been intensively discussed in several parliamentary committees for several weeks. Within December, the draft will be discussed again in a plenary session in order to be ratified article by article.
In previous years, there have always been last minute amendments due to the debates within the government and coalition. The opposition has not presented any plans to improve this budget. It has strongly criticized it and says that when it comes in power, it will have its own budget platform. /balkaneu.com/