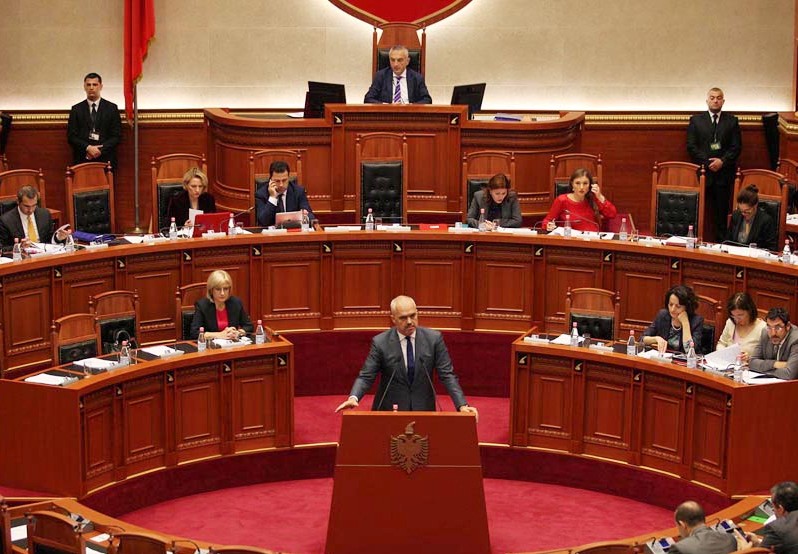 Tirana, November 18, 2014/Independent Balkan News Agency
In Albania, parliament held yesterday a marathon plenary session, which discussed the 2015 state budget and the new tax package that was presented by the government.
Many majority MPs spoke in this 14 hour session, which saw the absence of the opposition.
At the end, all the drafts sent by the government were voted with 77 votes in favor and none against.
Prime Minister Edi Rama said that he expects the Albanian economy to grow next year by 3%.
The 2015 budget amounts to a total of 4.9 billion USD. It projects a 27.5% growth of incomes as a percentage of GDP, as opposed to 26% expected in 2014. Budget expenses will see a slight increase, from 31.2% of GDP in 2014 to 31.5% of GDP for next year.
The high increase of revenues will enable reduction of budgetary deficit to 4% of GDP, as opposed to 5.2% expected to be in the current year.
Public debt is expected to see a slight fall and go down to 70.6%.
Meanwhile, the government's tax package will zero out 10 taxes and increase three taxes. Under this tax package, VAT will be removed from the insurance sector and a 3% tax will be applied.
Reduction of customs charge on crude oil will amount to 10%, a reduction which will stimulate domestic production.
The package also projects a reduction of the rent on processed chrome, which will offer a contribution for the processing of minerals in the country.
Meanwhile, the reduction of the tax on new tires relates to the direct protection of the environment and improvement of road safety.
The new tax package also zeros out the excise on natural bitumen to boost production and processing. It foresees fuel subsidy for farmers who pay their obligations to the state and VAT of imported cattle for fattening, considering them as part of investments in agriculture.
Excise on cigarettes was increased, while excise on energy drinks was removed.
Increase of the tax on petrol and gasoil is another tax, which according to the government, will contribute in having a cleaner environment.
Meanwhile, parliamentary committees will continue to discuss the draft article by article, before it goes to plenary session for the final voting. /ibna/