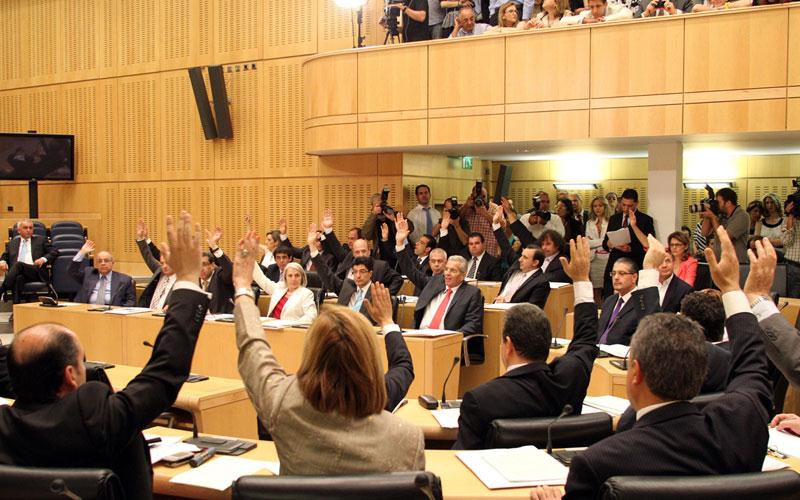 Nicosia, December 17, 2014/ Independent Balkan News Agency
By Kyriacos Kyriacou
Cyprus House of Representatives plenary approved on Tuesday evening the 2015 state budget. The budget which was basically enforced by troika passed with 29 votes for and 26 against. The country is under a euro bailout program.
State income is expected at 5.928 billion euro in comparison with 5.952 billion in 2014. Allowed expenses will be 6.662 billion in comparison with 6.622 in 2014, rising by 0.6%.
House of Representatives President Yiannakis Omirou was not present as he is Acting President of the Republic, until the return of Cyprus President Nicos Anastasiades who was hospitalized in New York.
The budget was passed with the votes of MPs from the Ruling Democratic Rally (DISY), Democratic Party (DIKO) and European Party (EVROKO).
It was rejected by Social Democratic party EDEK, the Greens, Citizens Alliance and independent MP Zacharias Koulias.
The vote took place in the presence of Minister of Finance Harris Georgiades and Minister of Justice and Public Order Ionas Nicolaou.
Before the budget was voted on, the plenary also passed 19 out 20 amendments tabled by the government.
MPs voted against passing an amendment which concerned €10 million to be used as compensation for employees of national air carrier Cyprus Airways. Instead the government will have to present its arguments for approval of the amount before the relevant Committee on Budgetary and Financial Affairs if it wishes for it to be used.
Parliamentary parties tabled a total of 35 amendments of which 19 were passed.  The amendments had to do with budgetary cuts, holding back of specific amounts and asking for Parliament to be briefed before different amounts are used.
The House plenary convenes in an all day session next Thursday in order to complete its legislative work for 2014.
Tuesday was the second day of the budget debate in the plenary during which the majority of MPs were given the floor to argue for or against the budget.