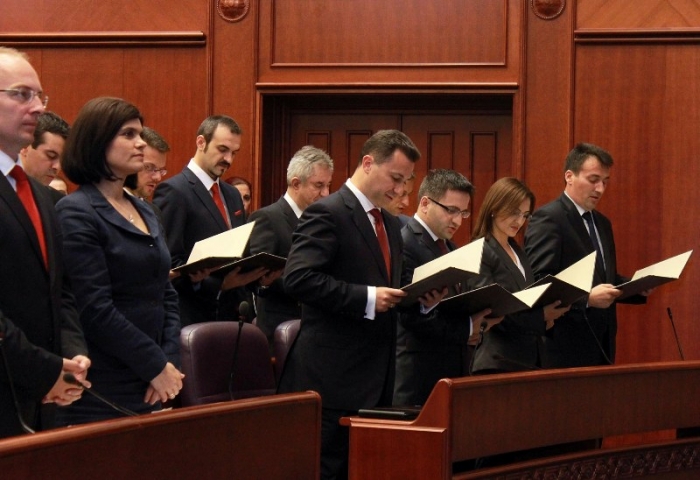 IBNA Special Report
Skopje, June 10, 2014/Independent Balkan News Agency
By Naser Pajaziti
Even in the new government, Albanians will not be able to hold important ministries such as the ministry of Interior, of Foreign Affairs or Finance.
After 20 years of transition, the last governing cabinet saw the appointment of an Albanian in the post of minister of Defense.
But, Albanian parties aim one of the three most important ministries, which so far have not been given up by Macedonian parties.
Even in the new government led by VMRO-DPMNE and BDI (Democratic Union for Integration), the latter will not be able to hold one of these ministries, although a lot was promised during the election campaign.
Albanian party, BDI, doesn't comment on the reason as to why one of the three important ministries was not secured. Analysts say that these ministries are exclusive for Macedonians and that there's a dose of mistrust against Albanians.
***
Negotiator for the formation of the government and BDI secretary, Abdilaqim Ademi says that this party is focusing on the ministries that it will hold in the next government.
"We have been able to secure important ministries for Albanians, where we have our priorities in economy, education and other domains", says Ademi.
Meanwhile, VMRO-DPMNE doesn't want to comment on this issue.
Albanian opposition party, PDSH, said that BDI is weak in front of VMRO-DPMNE in order to raise political bargaining and secure important decision making positions.
Leader of PDSH, Menduh Thaci had declared during the election campaign that in case of a victory, he would be the only deputy prime minister of Gruevski's government. "I will be part of the government as deputy prime minister or minister of Interior", declared Thaci during the election campaign.
Analysts: Albanians are avoided and not trusted
The first and only Albanian minister who has held the post of minister of Finance since the independence of the country, Xhevdet Hajredini, says that VMRO-DPMNE will continue to hold these ministries for as long as Albanian parties do  not condition their involvement in the government with these ministries.
"A party like VMRO-DPMNE can never give those ministries up, especially ministry of Finance.   In the recent years, we can see that not only the ministry of Interior and Foreign Affairs, but that of Finance and Economy have been marginalized too. We have seen that if an Albanian is appointed minister of Economy, then the prime minister appoints a deputy prime minister Responsible for the Economy", says Hajredini, former minister of Finance.
Analyst Alajdin Demiri says that by excluding Albanians from particular ministries, Macedonian parties show a lack of trust against Albanians.
"This indicates a segregation of power or a lack of trust toward Albanians. They are not seen as leaders of these ministries, because these ministries hold many state secrets, such as police, finances or diplomacy. For as long as policy making is done this way, without consensus, nothing will be able to change. But, I think that the concept of policy making must change and the government must be formed through consensus", says Alajdin Demiri for IBNA.
In the new government, BDI will hold the ministry  of Justice, Economy, Education, Local Government, Ecology and it will have a minister without portfolio. /ibna/