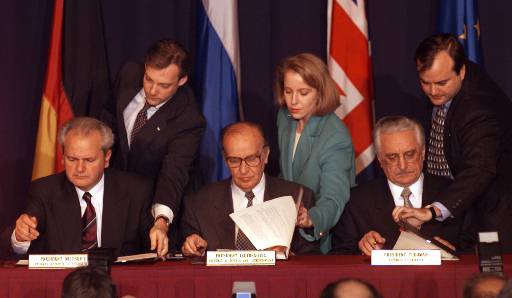 Sarajevo, August 19, 2015/ Independent Balkan News Agency
By Mladen Dragojlovic
BiH is preparing to mark 20 years since in Dayton, Ohio, the Balkan warlords agreed to finish almost four long years of war in the country. Many times in this post war period was emphasized that Dayton peace Agreement (DPA) stopped the war but didn't bring a stable peace in the state with two entities and three nations.
Twenty years after DPA, one of the most important questions is: is it time to change it? The answer on this question is simple: It depends on whom you ask.
Bosniak political leaders would like the DPA to have changed a long time ago, Serb leaders refuse to discuss about any, even the smallest change and Croat leaders are staying on the side and watch what future brings. The Croat position is, in this case, the best possible since almost every Croat has both a BiH and Croatian citizenship, which means that they are citizens of EU. Many Serbs would like to have citizenship of Serbia, but the procedure is more complicated so just a small number of them has both passports.
For Bosniak political leaders there is no doubt of the necessity of DPA changes, but there is a question on how deep they can go. The most radical ones, SDA leader Bakir Izetbegovic, son of Alija Izetbegovic who was one of negotiators in Dayton, for some time now has been using every opportunity to emphasise that reality demands changes in BiH Constitution, which in fact is Annex 4 of DPA. The notion that something is stirring with DPA, can also be seen by the fact that some of the western diplomats in BiH, in Op Eds for local newspaper, are promoting that idea. One of them is Head of OSCE Mission in BiH, Ambassador Jonathan Moore, who confesses that despite DPA being far from perfect, it has succeeded where all other attempts have failed.  Moore said that Dayton, and the Dayton constitution, will continue to be the backbone of BiH, its entities, and its citizens.
But, on the other hand, he criticised the BiH Constitution.
"There are obvious limitations to Dayton.  The most obvious one is shown in the Sejdic-Finci case. Dayton's provisions for constituent peoples effectively disenfranchised those BiH citizens who are not Bosniaks, Croats, or Serbs. Whether as part of its regional integration process or through other means, the constitution must be changed to reflect international human rights standards", Moore emphasised.
In his recent blog, British Ambassador to BiH, Edward Ferguson, doesn't call on the creation of BiH without entities, what he described as being Republic of Srpska leaders biggest fear, but said that changes will be the reality if the country want to be a member of the EU.
"Let's be clear. Accepting the entity structure in BiH doesn't mean that nothing will change. Costs must be cut because the public sector is unaffordable. And if BiH is to join the EU, as we all hope it will, then change is inevitable. At some point, that will include constitutional change, just as it has done for other recent EU members like Croatia. Dayton was never designed to be set in stone.  But the point is that these changes can only be made by constitutional means, Ferguson points out.
But, he also says that "objectively speaking, there are still strong arguments in favour of more centralisation in certain areas".
The politician who is the biggest opponent to any change in DPA, RS President Milorad Dodik, sent a quick response on Ferguson's positions on the matter.
"With all due respect for the importance of Great Britain, its ambassador to BiH Edward Ferguson has been exceeding the bounds of good diplomatic practice and has been openly interfering in the internal matters of BiH. It is such behavior that confirms that we are right when we say that BiH does not have its sovereignty and that foreigners are managing it. I don't know if there is anyone in RS who can believe that intentions of Great Britain are good, particularly in the light of the recent events with the failure of the UN Security Council to pass a resolution on Srebrenica, which was sponsored by it", Dodik said.
The fact is that any change of DPA can cause two different things: it can go on without problems and just with new leaders, or things will go wrong and cause new conflict.
(Photo: Signing of Dayton Peace Agreement)