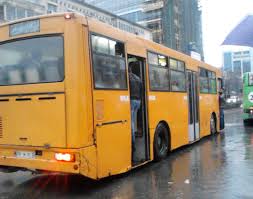 Tirana, April 25, 2013-There's not a single resident of Tirana who hasn't even once traveled with the miserable buses that run the line from the area of Kombinat to Kinostudio. Besides their old age, the state of these buses is also much degraded.
The mayor of Tirana, Lulzim Basha declared that starting from today, 20 new buses will run the line from Kombinat to Kinostudion, thus putting an end to the past suffering of the old buses.
"Today is a special day for commuters that travel on the line Kombinat-Kinostudio, because we're keeping the promise that we made for the replacement of the existing fleet of old buses with new buses. 20 new buses with all the modern features start work today, while 16 others will be introduced in the days to come. These buses will run without interruption from 5 am until midnight during the summer and from 5.30 am until 11 pm during the winter, thus offering a new standard of service, much deserved by thousands of residents from Kombinat or Kinostudio", said Basha.
Basa said that in spite of this promise that was kept, the Municipality of Tirana continues with the technical project for the introduction of tram lines. /ibna/