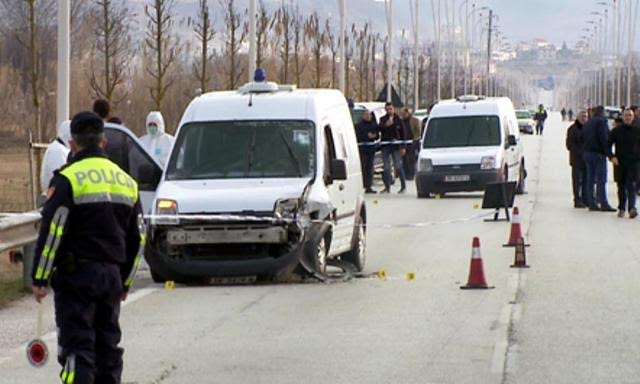 An armored vehicle which is believed to have been carrying around 2 million euros from a private bank in Tirana to the "Mother Teresa" international airport in Rinas, has been robbed on Thursday afternoon.
The car was robbed in the middle of its journey by a group of armed people wearing masks.
Different witnesses have said that at first, a car has hit the front part of the armored vehicle.
After that, several armed men who were wearing masks, have opened fire in the air and have opened the door of the armored vehicle by using explosives.
The funds, which belonged to the National Commercial Bank, formerly state owned and acquired years ago  by the Turkish, were being escorted by a private police service. Its agents said that they were attacked by the robbers.
After the robbery, the armed and masked men left.
Police say that they started to chase the robbers with a helicopter and established several checkpoints along the road. Eventually, authorities found the cars of the robbers burned.
On Friday morning, police announced the arrest of six workers of the private security company, accusing them for irresponsibility while doing their job.
Today, minister of Interior, Saimir Tahiri said that yesterday's robber is the best example of the failure of these security services before police takes over the case.
Tahiri accused the bank that was transporting the money for doing this with "zero security". He also accused "Nazeri 2000" private police service of not taking adequate measures to offer the service for which it is paid.
The minister also expressed his concern about the fact that random people started to film the scene of the robbery and did not report it to the police.
He appealed for citizens to cooperate with police in order for such events to be avoided. /balkaneu.com/