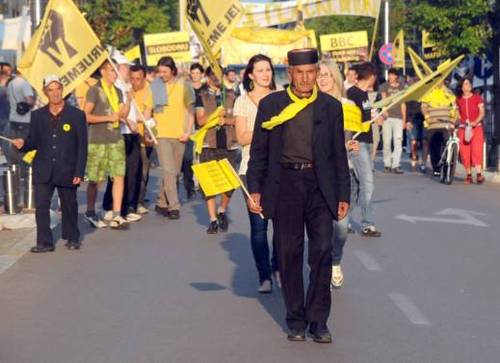 By Adnan Prekic – Podgorica
Montenegrin workers do not have a lot of reasons to celebrate May 1st, International Workers' Day. A significant number of employees living in Montenegro are in a difficult financial situation and a big portion of the population in general does not have work. Official statistics show that around 35,000 people are searching for a job, including more than 10,000 with a university degree. Trade union organizations in Montenegro have estimated that in the past 20 years around 36,000 employees have lost their jobs. The average salary in Montenegro is 470 euros, while the half of the employees receive a salary of less than 250 euros, while the consumer basket for a four-member family is 779 euros.
The transition and switch from centralistic to commercial model _ of organizing economy left the major social problems in Montenegro. Even though the gross domestic product increased in recent decade, which has increased buying power of citizens large number social problems have not been solved. The analysis carried out by the Faculty of Economics in Podgorica showed that 14 percent of employees are working illegally, and the employers of 16 percent of the employees who pay taxes give the minimum wage of 193 euros. This causes deficit of €90 million in the state budget or 6.8 percent of the projected budget in 2014. According to estimates, about 24,000 of the workers are working illegally, while 27,000 employers pay minimum contributions.
Undefined working status, low or irregular income, unpaid contributions, lack of rest days, longer working hours, are just some of these problems that torture workers. Strikes and protests of workers are frequent, and they have become a commonplace phenomenon which no one pays any attention.
An big number of employees following the transition in the economy has been left without of a job, mainly in the privatized state companies. They have remained without a chance for another job because of the unfavorable age structure. The new way of organizing the economy has resulted in less people working in factories, less goods being produced and new companies employing a small number of workers, which are some of the reasons why the middle class has been brought to the brink of extinction.
On the occasion of Labour Day, two trade union organizations in Montenegro organized a peaceful protest rally. The leaders of the unions said that only economic development can be a guarantee of a bright future for the Montenegrin people. They warned of the non-violent struggle to force the politicians to do their job and that a trade union will not be a social institution, but an equal partner of the government and union employers.