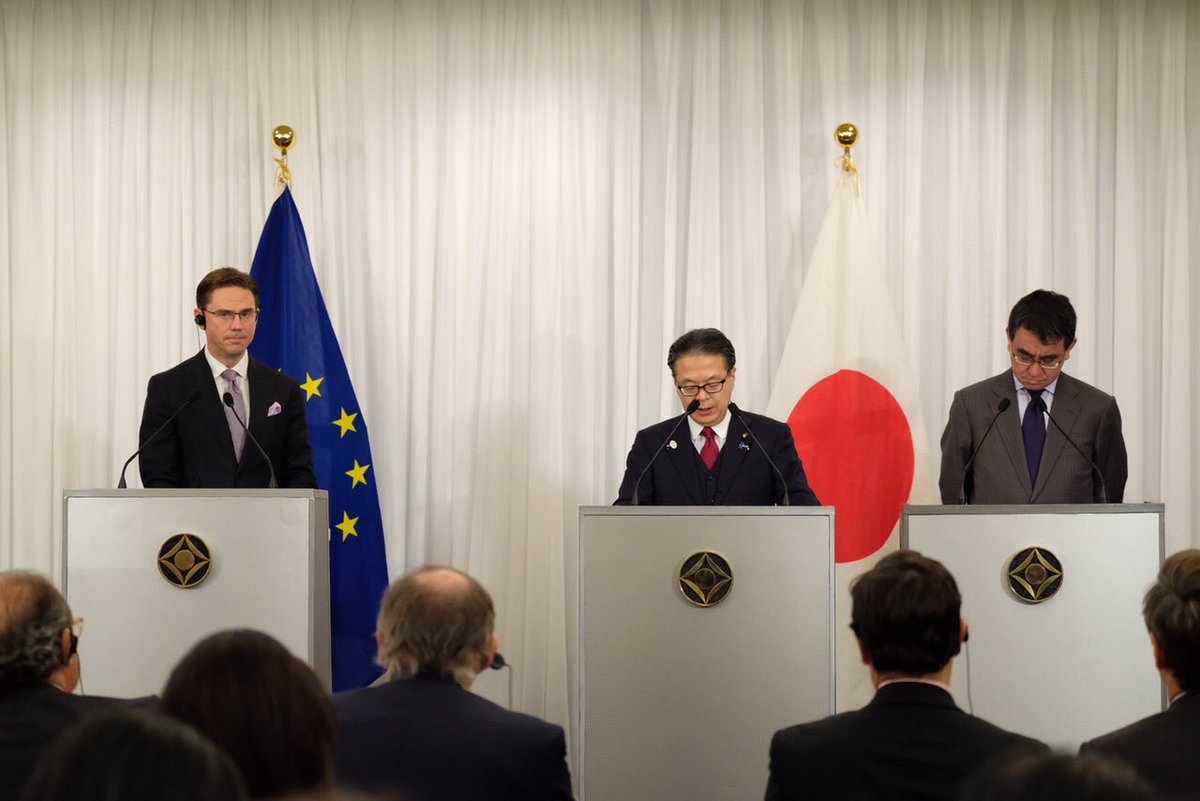 On October 22, the European Union and Japan held the first High-level Industrial, Trade and Economic Dialogue edition in order set a solid bilateral co-operation base to address global challenges.
Strategic topics of importance for both sides and their ties were discussed, with the EU saying that "The High-Level Dialogue focused on four main areas: global trade challenges; economic transformations linked to energy, environment and climate change issues; international investment and connectivity initiatives; and the digital economy."
Especially after the EU-U.S. rift over metal tariffs, the Union is looking towards the East where their co-operation proposals would not fall on deaf ears and possibly a very promising partnership could safeguard a hopeful future for trade, economy, energy and other sectors of great importance to Brussels and Tokyo.
EU's press release reads that "This Dialogue is a specific platform for strategic discussions whose establishment was endorsed by the 25th EU-Japan Summit held on 17 July 2018″ and was held between Minister of Economy, Trade and Industry, Mr Hiroshige Seko and Minister for Foreign Affairs, Mr Taro Kono, as co-chairs on the Japanese side, and the European Commission's Vice-President for Jobs, Growth, Investment and Competitiveness, Mr Jyrki Katainen."
"The 1st EU-Japan High-Level Industrial,Trade and Economic Dialogue took place in Tokyo today. Both sides are keen to keep #multilateralism and rules-based #trade alive, also discussed the cooperation in the #circulareconomy: europa.eu/rapid/press-re… #EUtrade #EUJapan" was the tweet by Katainen, on Monday, October 22.
"Both sides confirmed the EU and Japan's commitments to aim for the early entry into force of the EU-Japan Economic Partnership Agreement and make their utmost effort to promote the completion of respective domestic procedures by the end of this year."
Common strategic approaches are the main point of interest to the EU and Japan. Meanwhile, contemporary matters of broad negative effect to the population of earth that could not but affect the two 'interlocutors' contain ecology and particularly the prevention of marine plastic litter. So, this "partnership" is not concentrated solely on money, to put it in a simplistic way but wishes to create a sustainable future reality with a view to securing a safe environment for all people, too.
After all, both Japan as well as many EU states depend on the sea, on fishing and marine industry.
Their bilateral dialogue also contained numerous other topics "pertaining to new technologies and the digital economy (…) including policy developments concerning Artificial Intelligence, cyber security, digital trade, and healthcare technologies"….. / IBNA
Main Photo: 1st EU-Japan High-Level Industrial,Trade and Economic Dialogue, Tokyo, October 22, 2018