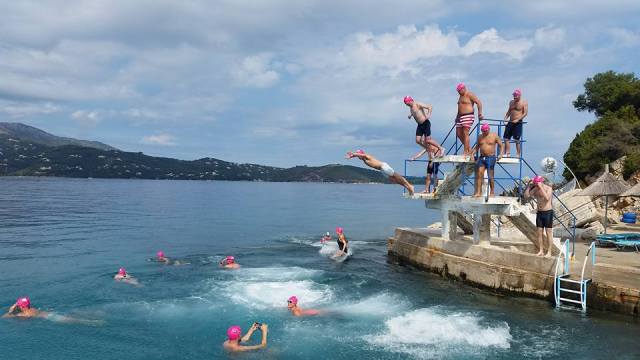 Tirana, 14 September 2016/Independent Balkan News Agency
History is repeating itself, but in time and for different purposes. While in the dark years of communist dictatorship, many people saw swimming to Greece as a way of escape, today some of have done this to promote tourism.
Therefore, 18 British amateur swimmers and two French ones, two women among them, have crossed the strait of Corfu from Albania to Greece by swimming.
This became part of an international activity hosted by the National Agency of Albanian Coast. "This modest activity aims at creating an international event to promote tourism in Albania with such ideas of adventure sports", said the head of this agency, Auron Tare.
The British organizer of this event, Nicholas Cockson, said that this incentive will move forward: "Each ear, we will bring here more people who want to cross this trait by swimming, thus promoting Albania and Corfu".
The Corfu strait separates Albania with the Greek island of Corfu and it is one of the most prominent sea crossings from Greece to Albania and then to the Ionian Sea.
The nearest point between the two countries is around 2 miles or 3,6 km.
In the past, during the communist regime, it served as the place where many Albanian youngsters used to escape toward west.
Very few of them managed this, while the majority have even sacrificed their life by drowning or by being caught by the communist regime. /balkaneu.com/