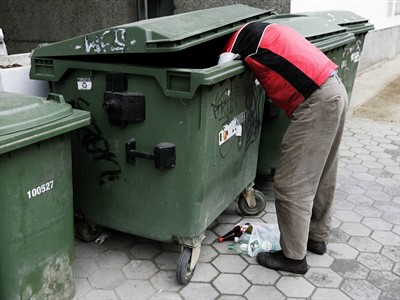 By Maja Tuljkovic – Sarajevo
On the World Day of Social Justice on 20 February, Caritas Biskupske Conference of B&H, together with the Network Caritas Europe, has called on political structures and decision makers in B&H to recognize social justice as a fundamental principle in the fight against poverty and social exclusion. In fact, according to data from various local and foreign organizations, around 18 percent of the population of B&H lives below the poverty line, while 48 percent are on the edge of poverty or social exclusion. The statistical indicators confirmed this data, which have a direct impact on poverty: salaries, pensions, prices and the unemployment rate.
After the war, the conflict and traumatic events, and the economic inequality that was unnatural and harmful to B&H, continues to be applied to a political and institutional system that cannot reach significant results in the area of social development and the fight against poverty. Every year, the situation gets worse, and the number of poor and socially excluded people is growing every day. The difficult internal economic situation impacts this, as well as the impact of the global economic crisis, for which B&H still has to pay for.
B&H citizens often look for bread and clothes in containers, and gather paper to sell in order to survive. They often address the Ombudsman Institution for Human Rights in B&H, and the most common question is ''how do I survive''? Ombudsmen emphasize that citizens are demanding their rights to a decent standard of living, which includes adequate food, dressing, housing, as well as the improvement of living conditions. The Ombudsmen for Human Rights B&H say that last year they received 698 complaints related to socio-economic rights.
Around 80 percent of poor people live in rural areas. The relative poverty in B&H amounts to 18 percent; in other words, every sixth household is considered poor. Estimates show that that the proportion of the population that is threatened with poverty has reached 48 percent. More than 50 percent of the population is, in some way, socially excluded. Groups that are particularly vulnerable are children, youth, people with disabilities, Roma, people who live in rural areas and refugees and displaced peoples.
The monitoring of effective measures by public authorities at all levels does not follow the difficult social and financial status. More serious measures should be taken by political structures, as well as al those who adopt decisions at all levels of government, and in order to reduce these numbers, because for now there is no indication of decline.
B&H has to, above all, meet the task of promoting social justice. This means that the government and local government should work on the eradication of poverty and social exclusion, and must develop policies and laws that respect the interdependence and interconnection of economic and social development in a sustainable manner. Politicians should keep in mind that the dignity of each person and the search for the common good are the basic principles of the future features of our society. For B&H, it is key to continue with the reforms in the social sector and to develop policies for an active labor market.