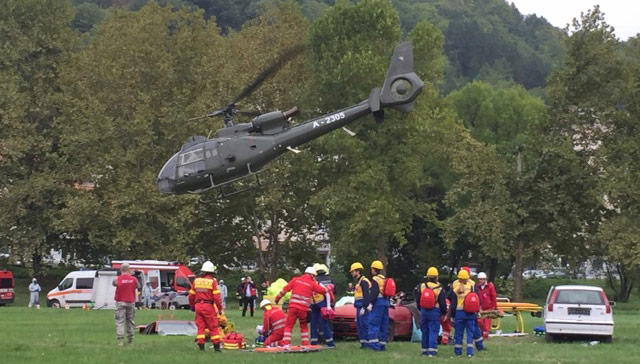 Disaster response personnel from thirty four NATO and partner countries begun on Monday morning in Tuzla, BiH, the exercise of the Euro-Atlantic Disaster Response Coordination Centre (EADRCC).
The exercise was officially opened by NATO Assistant Secretary General for Emerging Security Challenges, Sorin Ducaru, and the BiH Minister of Security, Dragan Mektic. At the opening ceremony, Ducaru said that the exercise will help the raising of the international cooperation in countries ranging from Spain to Serbia, from Bulgaria to Belarus and from Croatia to Pakistan.
"It will give responders the opportunity to test state-of-the-art technologies in relief operations. In short, this exercise will demonstrate the real value of NATO's network of partnerships", Ducaru said.
He added that this shows that no one, neither organization nor the country, can effectively respond to disasters, unless they react jointly.
NATO's exercise, as Mektic said, is extremely important for BiH, the region and all participating countries.
"There are really new experiences, new achievements in the technological sense, but also in the training of personnel for the prevention of the consequences of disasters. Especially we in BiH should give a higher importance to the components of rescuing people and property in various disasters", Mektić said.
He emphasized that cooperation and mutual assistance, regardless of the size of the disasters, can reduce the number of victims and the consequences on the property to a minimum level. Mektic said that he believes that BiH has a certain level of capacity, that the system of protection and rescue in disasters can be included in such an organized exercise and that it can give full contribution to the elimination of consequences and beyond the BiH borders.
In the next five days, as it was announced from NATO, around 1200 participants from NATO and partner countries will test international cooperation and interoperability in disaster response, including water rescue and chemical, biological, radiological and nuclear (CBRN) detection, protection and decontamination. The exercise will provide the opportunity to test and employ projects supported by the NATO Science for Peace (SPS) Programme. These include a capacity building project in the field of emergency response in the Western Balkans, the "Next Generation Incident Command System," and a telemedicine system to increase medical support in disaster-affected areas by remotely engaging medical experts from assisting nations.
Several international organisations and NGOs will also be involved in the exercise, including the United Nations Office for the Coordination of Humanitarian Affairs (OCHA), the European Union, the NGO Save the Children and the Red Cross Society of BiH.
This is the 17th international field exercise organised by the Euro-Atlantic Disaster Coordination Centre (EADRCC) and the first one hosted by BiH.