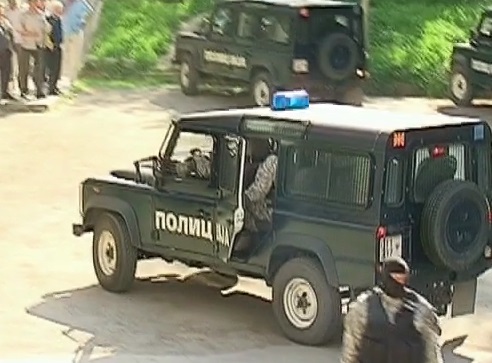 Skopje, September 16, 2013
Ministry of Interior in FYROM has offered details about the operation name coded "Spy".
Spokesman of the Ministry of Interior, Ivo Kotevski declared that 17 was the number of arrested people, while the number of suspects was 22. They are suspected of espionage and collaboration in criminal acts, by offering information to foreign secret services.
Kotevski says that the enquiries had started two years ago and that two of the suspects are in the run.
"All the arrested persons and suspects in the run are accused of espionage and criminal collaboration. During the search carried out in their homes, police found different classified materials, computers and other materials which were passed on to foreign secret services", declared Kotevski.
Ministry of Interior unofficially informed for the arrest of Marjan Maxhoski, head of cabinet of parliamentary speaker, Trajko Veljanovski, former head of the agency against money laundering, Vane Cvetanov, former general of security forces of FYROM which participated in the 2001 conflict, Goran Stojkov, journalist Zoran Bozhinovski, Ace Dinevski, former official of the counter intelligence and other names, officials employed in the Ministry of Interior, Ministry of Defense and other domains. According to Ministry of Interior, they operated as a parallel secret service. Amongst the arrested persons were also two employees of the Agency for Counter Intelligence, two persons from the Directorate of Security and Counter Intelligence, 4 officials of the Ministry of Interior, three officials of the Ministry of Defense, State Archive and a director of the Directorate for Financial Affairs. /ibna/