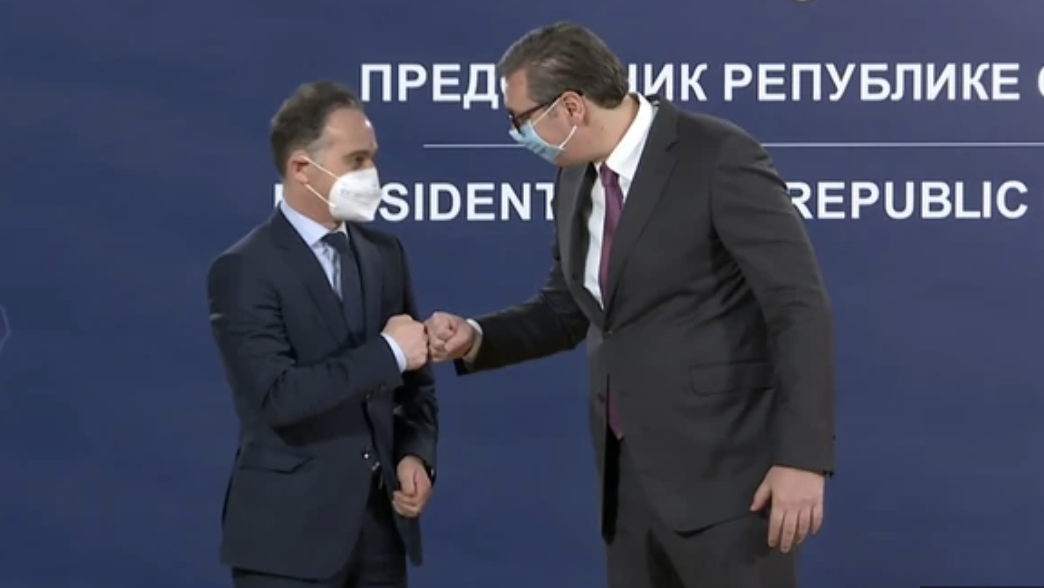 Serbian President Aleksandar Vučič met today with the Minister of Foreign Affairs of Germany Heiko Maas, and on this occasion stressed that Serbia is ready to continue the dialogue with Pristina and seeks a compromise solution.
He stated Serbia wants to build peace with the Albanians.
"Germany recognized the independence of Kosovo, Serbia did not. Germany strongly supports the EU-sponsored dialogue and the role of Miroslav Lajcak throughout the process. Serbia is ready to continue the dialogue and wants to reach a compromise," Vučić said, adding that "we believe that the frozen conflict is not a solution, because one can always thaw it. We want to make peace with the Albanians, that is the essence of progress. Of course, it is important for us that all signed agreements be fulfilled, primarily the Brussels Agreement on the establishment of the Community of Serb Municipalities," he said.
Vučić said that Serbia would insist on Pristina doing what it had promised.
"The Brussels agreement must be respected and we will insist on it. Since we have fulfilled all our obligations, Pristina must follow suit. We are ready to speak in a serious and responsible way," he stressed.
Vučić underlined that the German Foreign Minister's visit is another confirmation of the importance of political dialogue and the improvement of relations between Serbia and Germany.
"Serbia has the closest economic relations with Germany, convincingly the largest trade. I want to underline that people in Serbia understand that there is no economic partner more important to us. I would also like to thank Angela Merkel for her support in all areas. We will not forget all that she has done for our country," Vučić said.
"For us, cooperation with Germany is vital, I believe it can be even greater and more important," he said.
For his part, Heiko Maas said he was aware that the normalization process with Kosovo was not easy, but believed it was contributing to economic development, noting that Germany supported the dialogue process and envoy Lajcak mediating in this process.
Maas, who also visited Kosovo and stayed in Pristina yesterday, told a news conference after meeting with President Vjosa Osmani that it was clear that Serbia's recognition of Kosovo was one of the elements of the final agreement with Serbia.
"As for the dialogue process, of course the recognition of Kosovo will be one of the elements of the solution, otherwise it will not take place and apart from that, it is normal for there to be compromises from both sides in cases of normalization dialogues, and I do not want to draw red lines. I do understand, however, that because of the historical circumstances this will be difficult, I want a solution to be found at the end of the process and both sides must be willing to compromise," Maas said yesterday. /ibna