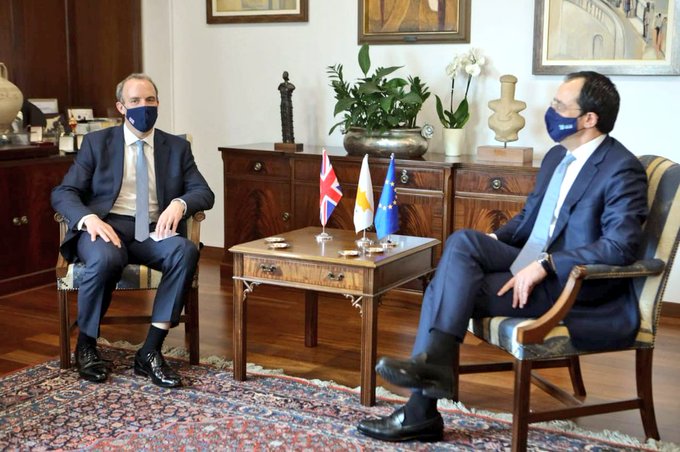 The Minister of Foreign Affairs of the United Kingdom Dominic Raab wrapped up his contacts in Cyprus after meeting with President Nicos Anastasiades and his counterpart Nikos Christodoulides.
In his remarks after their discussions, Dominic Raab said the United Kingdom wished for a permanent and lasting end to the Cyprus issue and expressed hope that all sides would see the opportunities presented, adding that failure to settle the Cyprus issue after so many efforts will benefit no one, calling on all parties to join the talks ready to compromise in view of a positive result.
Nikos Christodoulides stated that he expressed to his British counterpart the expectation that negotiations will resume soon from where they were left off in Crans Montana, reiterating Cyprus' clear commitment to this end.
"I also reiterated our stated readiness to continue negotiations under the UN Secretary-General's framework, the Convergences achieved and the February 2014 Joint Communication, expressing hope that the same level of commitment will be shown by all parties," Nikos Christodoulides said.
He added tat he and his British counterpart had agreed that, in pursuing a meaningful process, it was important for all stakeholders to embrace the need to avoid any challenges that could jeopardize the effort.
In his statements, Dominic Raab urged all parties to attend the talks "with a desire to show flexibility and compromise," noting that he was encouraged by the talks he had had in this regard.
He said "there is an opportunity to push for a solution that will benefit both sides" and would greatly benefit regional stability, security and prosperity.
As he claimed, failure to reach a settlement after so many efforts would not benefit anyone.
He said that "we will work together with the Cypriots and of course the UN to finally resolve the Cyprus issue and achieve a fair and lasting solution; so that young people, the next generation of Cypriots, can once again fulfill their ambitions, their dreams and escape from the fears and anxieties hovering over both communities ".
He stressed that a reunited Cyprus could achieve its full potential as a ray of democracy, security and prosperity and the values ​​shared by the British and Cypriots.
Dominic Raab said the UK-Cypriot relationship is strong with the two countries sharing a long history and relationship.
In his statements, Nikos Christodoulides said that Raab's visit heralds the opening of a new, promising chapter in the long history of the special relationship linking Cyprus and the United Kingdom. "Our countries have been close partners in the EU and I assure you that we will maintain and strengthen this fruitful relationship."
He said Raab's visit "is as important as the timing at which it takes place, as it coincides with the UN Secretary-General's efforts to resume negotiations on a comprehensive settlement of the Cyprus issue on the basis of a bi-zonal, bi-communal federation."
Nikos Christodoulides added that, as expected, following Dominic Raab's meeting with President Anastasiades earlier, he engaged with his British in a thorough discussion on the latest developments regarding the Cyprus issue.
He added that the United Kingdom's role – as a party to the Establishment and Guarantee Treaty, as well as in its role as a Permanent Member of the Security Council – is vital.
"It must be absolutely clear that a comprehensive solution must be in line with the UN Security Council resolutions, the United Nations Charter, the values ​​and principles of EU law. A reunited Cyprus must be a functioning state, a viable EU Member State, a stable and reliable agent in its territory. A modern European state that is not a prisoner of anachronistic systems and structures that have no place in the 21st century," he added.
He said he and his British counterpart agreed that in the pursuit of a meaningful process, it was important for all stakeholders to embrace the need to avoid any provocations that could put the effort at risk of derailment. He noted that Dominic Raab is well-versed in international law and fully understands the importance of complying with it, including the 1982 United Nations Convention on the Law of the Sea.
As for Varosha, he said he noted the UK's constructive stance on the agreement on a strong Presidential Security Council statement last October and reiterated how deploring it was that Turkey, despite international condemnation, had committed violations within the fenced area in violation of United Nations Security Council resolutions.
As for developments in the region, he briefed Dominic Raab on the active role of Cyprus in the Eastern Mediterranean and in the Gulf region together with a number of isolated states within the expanding framework of tripartite cooperation mechanisms, with the aim of promoting synergies through a positive agenda. "Our vision is to strengthen the prospects for peace, stability and prosperity in the region," he added.
I stressed, said Nikos Christodoulides, that this network of positive agenda is expanding to include partners with a common geopolitical vision in order to prepare the ground for more extensive and institutionalized regional cooperation. The United Kingdom's knowledge of the region is deep and we certainly see prospects for enhanced cooperation on this front as well.
On Wednesday, according to a Twitter post, Dominic Raab had a telephone conversation with his Turkish counterpart Mevlut Cavusoglu in view of the informal talks on the Cyprus issue under the auspices of the United Nations. "I reiterate the need for all sides to be flexible," Raab added, stressing that co-operation between the UK and Turkey was still firm. /ibna