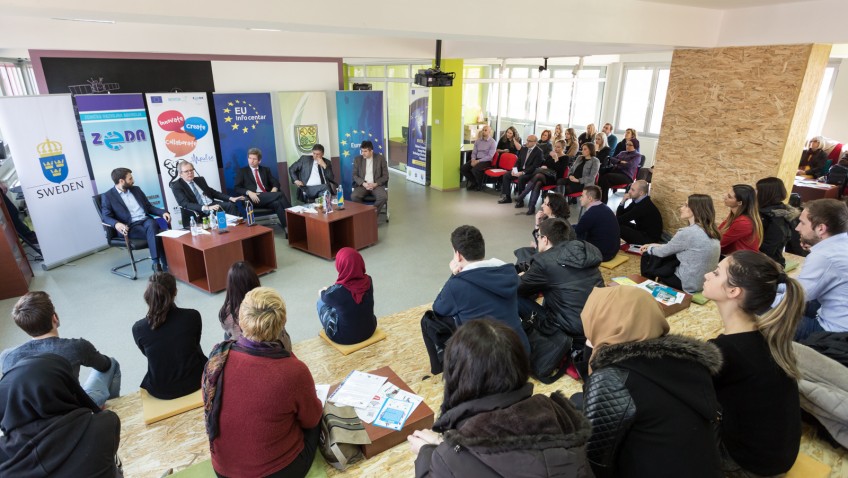 On the occasion of the International Day for the Elimination of Violence against Women – 25th November and as a contribution to 16 days of activism against the gender-based violence campaign, the EU Info Centre in BiH organised a panel discussion with H.E. Edward Ferguson, UK Ambassador, and H.E. Anders Hagelberg, Ambassador of Sweden.
The discussion took the place in city of Zenica and it is not the only activity in BiH during this 16 days of activism. Many other manifestation will and were organized in many BiH cities.
H.E. Edward Ferguson reminded that one in three women, in global perspectives, is beaten or sexually abused in her lifetime.
"As a father of two young girls, I find that appalling. And, all too often, victims of violence or sexual abuse face more needless suffering because, although completely innocent of any wrongdoing, they are treated with suspicion by their families and communities, denied justice and cut off from access to support when they need it the most", Ferguson said.
He has also emphasised the problems that victims are facing in their daily life. Ferguson said that  the British Government,  around the world, is working to stop violence, and particularly sexual violence, against women and girls. He also explained that his Government is helping to improve public services, and to tackle the stigma which can so unfairly be attached to survivors.
"Sexual violence can happen to anyone, of any ethnicity, gender or social status. And we all – not just politicians or public servants, but families and friends – have a responsibility to offer our compassion and our support to those who have been its innocent victims", Ferguson concluded.
H.E. Hagelberg underlined gender equality as one of the top priorities of the Swedish Government and foreign policy. It is, as he said, the need of all to stop the violence that men are conducting against women, which is the same in BiH and Sweden, as well as in all other parts of the world.
"About 35 percent of women worldwide and in some countries up to 70 percent of women experienced some form of violence, which is related to their gender. These are the situations we need to stop and I think that this issue deserves all our efforts", Hagelberg said.
Fuad Kasumovic, Zenica Mayor, called upon the participants of the discussion to apply the values shared during the discussion in their daily life, and Beti Colak, a participant in this thematic discussion noted that only broad discussion can help resolve this global issue.
"It is important to raise voice on this matter, not only to prevent future violence, but also to show support to all victims of gender-based violence", Colak said.
EU Info Center, in the announcement from event, explained that 16 Days of Activism against Gender-Based Violence Campaign  is a period to galvanise actions to end violence against women and girls around the world. This year's campaign theme is: "Orange the world: Raise money to end violence against women"./IBNA