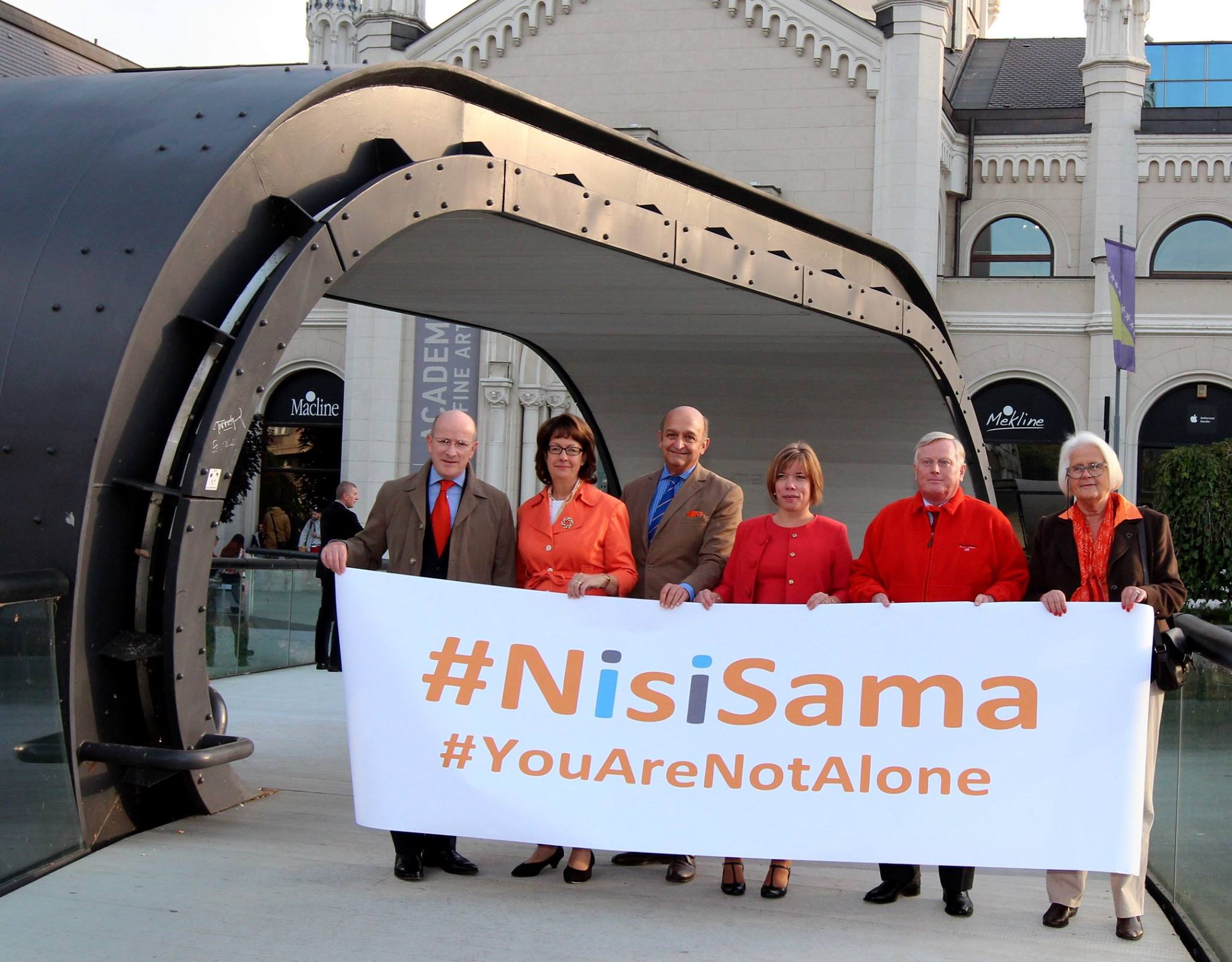 Banja Luka, November 25, 2015/Independent Balkan News Agency
By Mladen Dragojlovic
According to recently performed relevant research, 47 percent of women in BiH experience least once in their lives some kind of violence.
Reports say that mental violence is most usual in the whole country, while on second place is physical violence. About 6% of women experience sexual violence some time during their adult years.
In order to point out on these problems and to express support to victims of violence, HiH non government and some government organisations begun the International day against gender violence action called "16 days of activism". One of the government organisations which participate in this event is the state Agency for gender equality. Agency and activists shared the white ribbons to those who feel that society and individuals must do more to prevent these problems.
The action is supported by many cities and, for instance, Banja Luka lighted the three most important buildings in the city center in orange, the color of the campaign. Many other cities acted as such on their buildings.
International community representatives in BiH and several ambassadors also expressed their support to this event. The entire staff of EU special representative marked November 25 as a day when the world supports victims of gender violence.
"Violence against women and girls is one of the most serious human rights violations. One in three women worldwide has experienced it, regardless of her ethnic, religious or educational background.  There is neither justification for it, nor excuses for us to stay ignorant of the pain women suffer", said Ambassador Lars-Gunnar Wigemark, the Head of the EU Delegation and EU Special Representative.
He added that taking action to prevent and eliminate gender-based violence is the responsibility of each and every individual, civil society and governments worldwide. Wigemark said that it also remains a priority for the European Union.
"We must work to provide women with access to economic opportunities, to ensure their equal participation in public life, repeal laws and practices that continue to discriminate against them and ensure that homes, offices, streets and schools are safe for women and girls. Only by setting it as a priority and joining efforts can we succeed at this front", Wigemark stressed.
The EU has assisted Bosnia and Herzegovina through a range of programmes with regard to respect of women's rights and gender equality, assisting victims of sexual violence and rape during the war, peacebuilding and reconciliation. Through the Instrument for Stability, the EU is currently funding an EUR 1.7 million project to ensure access to justice for witness/victims through strengthening Witness Support Networks across BiH. The EU also supports the preparation of the new regional intervention in the development of gender equality in the Western Balkans and Turkey to be implemented by the UN Women with EU funding for an amount of EUR 4.5 million.
Several ambassadors also supported the event and most of embassies in Sarajevo will feature orange lights at least for one night.
Photo: US embassy – Facebook