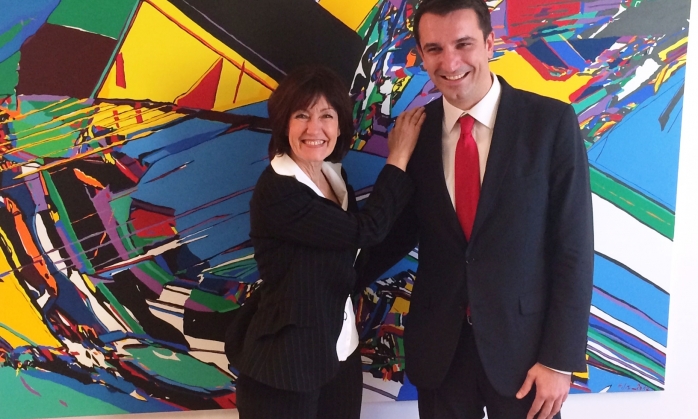 Tirana, December 10, 2013 / Balkan Independent News Agency
Albanian Authorities have successfully finalized negotiations to sign the Agreement for Social Protection between Albania and Belgium. This agreement benefits 35 thousand Albanian emigrants who live and work in Belgium.
Albanian Minister of Social Welfare and Youth, Mr. Erion Veliaj and deputy Prime Minister and Minister of Social Affairs and Public Health of Belgium, Mrs. Laurette Onkelinx, signed in Brussels (photo) the bilateral Agreement on Social Protection.
Mr. Veliaj said that this agreement enables the transfer of pensions for 35 thousand Albanian emigrants. "This is one of the most important agreements that Republic of Albania signs with the Kingdom of Belgium, given that it enables Albanian emigrants to withdraw pension contributions that they have deposited in Belgium should they decide to return in Albania or vice versa", said Mr. Veliaj, reports balkaneu.com.
On her part, Mrs. Laurette Onkelnix praises the application of rules for the coordination of social protection schemes in compliance with European standards, which would offer facilities and benefits for employed persons, self-employed persons and for their family members, who move within the community.
Belgium is the first EU country with which Albania signs an agreement for pensions. It's been many years that negotiations are conducted with neighboring countries such as Greece and Italy, but a full agreement hasn't been struck yet. Over 1.5 million Albanian citizens live in these two countries.
Currently, Albania has an agreement for social protection with Turkey, which is being applied, while negotiations are taking place with Hungary, Romania, FYROM, CzechRepublic, Luxembourg and Canada.
In Albania, social protection policies occupy 25% of the state budget, serving to almost half of the population of the country, mainly elderly people, disabled people and other vulnerable categories.
Nevertheless, many people are not satisfied with the services that are offered by the state and pensions start at 60 Euros a month.
Albania still doesn't have a minimum living standard accepted by all parties as far as the amount of monthly incomes needed by an Albanian resident to survive is concerned.
Minister Veliaj says that in cooperation with international institutions such as the World Bank, IMF, European Council, ILO, etc, important studies are being carried out for the state of the social protection system and monitoring is taking place for the problems and deficiencies that exist. /ibna/