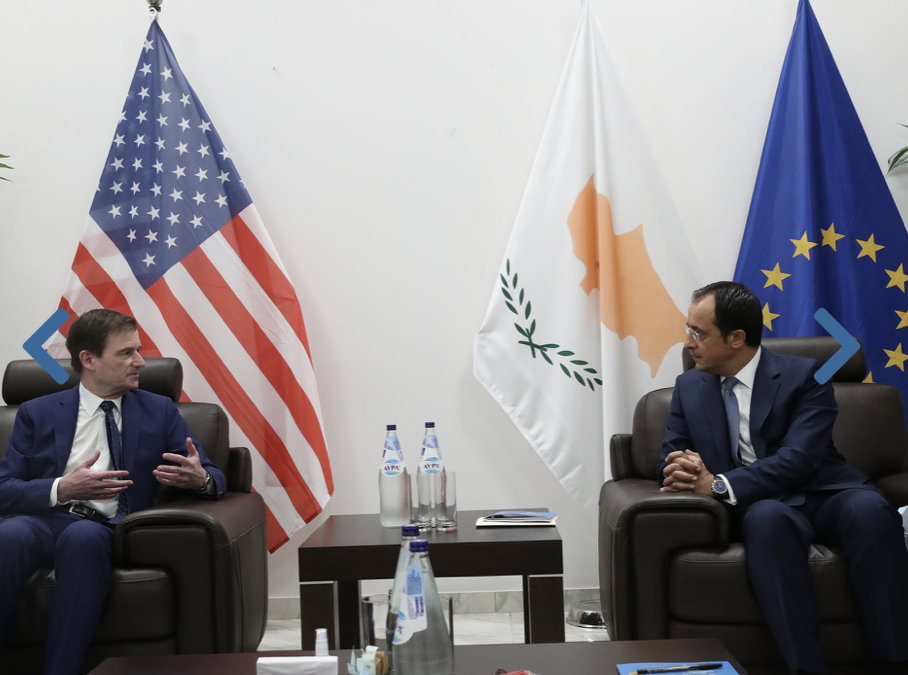 Cypriot Foreign Minister Nikos Christodoulides met on Sunday morning with US Undersecretary of State for Political Affairs David Hale.
During their meeting, the bilateral relations between Cyprus and the United States were reviewed and concrete steps were examined for their further strengthening towards mutually beneficial directions that have already been agreed, including, among other areas, security and the fight against terrorism, energy, economic and trade cooperation, as well as the ongoing dialogue on the abolition of visas for Cypriot citizens visiting the United States.
The Cyprus issue was also discussed, with Nikos Christodoulides briefing David Hale inter alia on the provocative announcements and actions by Turkey and the occupying regime in relation to Famagusta, which violate the relevant Security Council resolutions and seek to  to create unacceptable faits-accomplis that will have a negative impact on the prospects of resolving the Cyprus issue on the basis of the bi-zonal bi-communal federation.
Furthermore, the Foreign Minister had the opportunity to thoroughly brief and exchange views with the US Undersecretary of State on the situation in the Eastern Mediterranean, in the light of Turkey's ongoing illegal activities at various levels and in different directions. During the discussion, the US reaffirmed its support for the sovereign rights of the Republic of Cyprus and stressed the need for all parts to respect the right of the Republic of Cyprus to exploit the natural resources located within its maritime zones.
Finally, Christodoulides and Hale exchanged views on the situation in the wider Middle East, North Africa and the Gulf, as it has been formed following the latest developments. /ibna