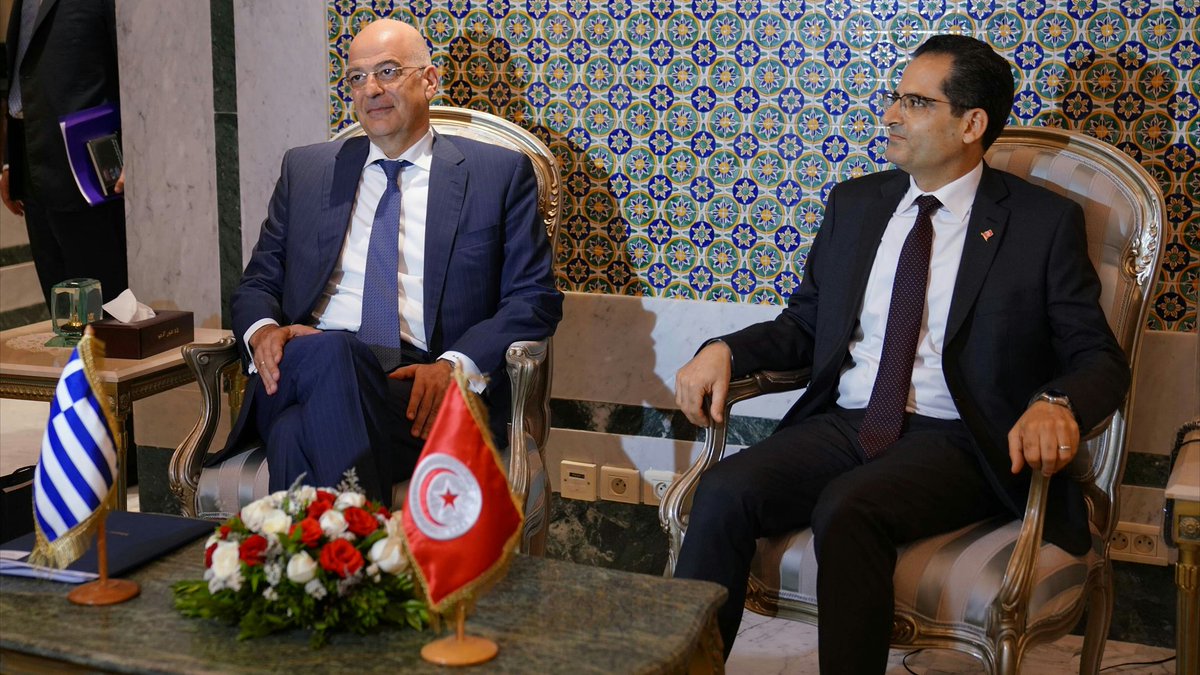 On Monday, June 29, 2020, Tunisian Foreign Minister Noureddine Erray received at the headquarters Greek Foreign Minister Nikos Dendias, who paid a working visit to the country in support of the friendship and cooperation between the two countries.
During theIR meeting, according to the Tunisian Foreign Ministry, the two ministers discussed the course of bilateral relations between Tunisia and Greece, as well as ways to further strengthen them, especially in the economic field, in the light of the promising opportunities for cooperation arising in both countries in many areas.
The two sides stressed the need to speed up bilateral contacts this year, especially at the 11th session of the Tunisia-Greece Joint Committee, as an effective mechanism for discussing ways to differentiate bilateral cooperation between the two friendly countries and encourage investments from both sides.
The two ministers also recommended that preparations be made for the fourth meeting of political consultations between the two countries, so that it can be properly shaped to further strengthen political consultations, especially after the coronavirus pandemic and the economic and development challenges it poses in the present and the future for the people of the two countries.
During their talks, they exchanged views on the situation in the region, especially the crisis in Libya. In this context, the two ministers reaffirmed the support of both Tunisia and Greece for a peaceful compromise between the warring parties in Libya and the compliance of international lawfulness and the relevant UN resolutions, to ensure the unity of Libya and security, as well as the well-being of its brotherly people, according to a statement from the Tunisian Foreign Minister.
The two sides also reaffirmed their desire to work together to support efforts aimed at strengthening security, peace and stability in the Euro-Mediterranean area and achieving prosperity for the people of the region.
At the end of the meeting, the two ministers signed the bilateral agreement on maritime transport, which aims to promote economic and trade relations, as well as the development of maritime cooperation between the two countries.
Following his meeting with his Tunisian counterpart, the Greek Foreign Minister was received by the President of Tunisia Kais Saied. /ibna