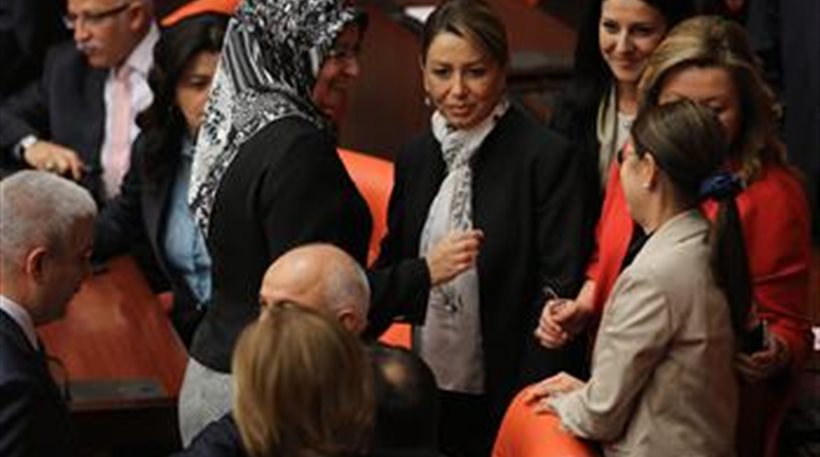 By Manolis Kostidis – Ankara
A serious taboo broke in Turkey regarding the Islamic headscarf. Four female members of the Justice & Development Party attended the Parliament session wearing Islamic headscarves; an event without precedent in Turkey.
The occasion of their appearance in Parliament is part of the "democratization package" announced one month ago by Recep Tayyip Erdogan with which the ban on wearing a headscarf in public was lifted.
The four MPs sat on the Parliament benches without causing any tension.
"We performed the sacred duty of visiting Mecca and from here on we feel the need to cover our hair" said the four women, members of the AKP. Oddly enough no political party leader was in the assembly at the time.
The chairman of the Republican People's Party parliamentary group, Muharrem Ince, stated "women with or without headscarves are still our women" and raised no serious objection to headscarves worn in public while the pro-Kurdish Peace & Democracy Party said it "pleased that such an important issue was resolved within the Parliament House without interference".
In 1999, Merve Kavakci, an MP of Erbakan's Virtue Party, had entered Parliament in order to take an oath wearing an Islamic headscarf. With the intervention of Prime Minister Bulent Ecevit at the time, aided by other party voices too, she was expelled from Parliament and later lost the Turkish citizenship.
In 2011, Turkish Parliament had banned Safak Pavey, a Republican People's Party MP, to wear trousers. She had filed a request due to having a prosthetic limb. Many AKP MPs that support the headscarf today had opposed Pavey's request to weat trousers.
The Islamic headscarf was until recently banned in public as well as Universities as it was considered an Islamic symbol and a threat to the secular Kemalist state.
When Abdullah Gul was elected President in 2007, tension was caused between the government and the Armed Forces because his wife wore a headscarf. Generals argued the structure of the Kemalist state could not exist in the Presidential Mansion Cankaya if the President's wife wore an Islamic headscarf. Then, the army went as far as sending an e-mail threatening the Erdogan government which some called a "digital coup". The crisis was overcome and Gul was elected President while his wife, Hayrunisa, wears the headscarf at official receptions in the presidential mansion normally.
Recep Tayyip Erdogan's wife too wears a headscarf. According to polls, 70 pct of women in Turkey wear an Islamic headscarf.