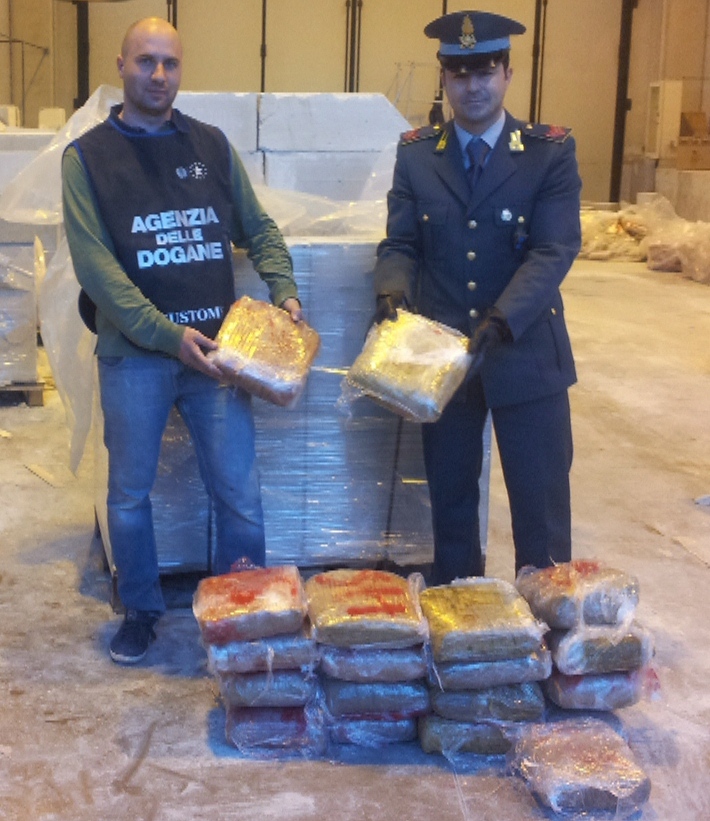 Tirana, April 15, 2014/Independent Balkan News Agency
Italian police has seized 1.4 tons of marijuana which had arrived from Albania in the port of Bari.
Port of Bari authorities and customs found 1390 kg of marijuana divided into 1200 packages hidden in bags of cement following an inspection of goods coming from Eastern Europe.
A 55 year old, driver of the vehicle, has been arrested. Italian police said that the load was coming from the Port of Durres (photo).
According to Italian authorities, the drug was destined for the Italian market and amounted to 14 million Euros.
The narcotics substance was seized in a 10 meter long motor boat which had left Albanian coasts and which was followed by Guardia di Finanza and Italian Coast Guard.
The narcotic substance had easily been transported from the Italian coasts to the port of Bari.
This is one of the biggest amounts of narcotic substances that Bari's authorities have seized. A week ago, Guardia di Finanza seized 2 tons of drugs in Bari also loaded in a motor boat coming from Albania. 4 Albanians were arrested in this operation.
Some police experts raise their concern that there's been a recent increasing activity of motorboats. Drug traffickers  transport narcotic substances from Albania to Italy and Albania to Greece by selling large amounts of drugs.
It's believed that the drug originates from Lazarat and the profit amounts to hundreds of millions of Euros, given the fact that two loads discovered within a week amount to 30 million Euros.
Italian and Albanian police believe that these cases are only a part of the systematic traffic carried out by Albanians, Italians and other nationalities.
The discovery of the motorboat at the start of this week comes a few hours after the government announced that it plans to abrogate the moratorium which prohibits motor boats and which was decreed 10 years ago by the right wing government of former prime minister Sali Berisha. /ibna/