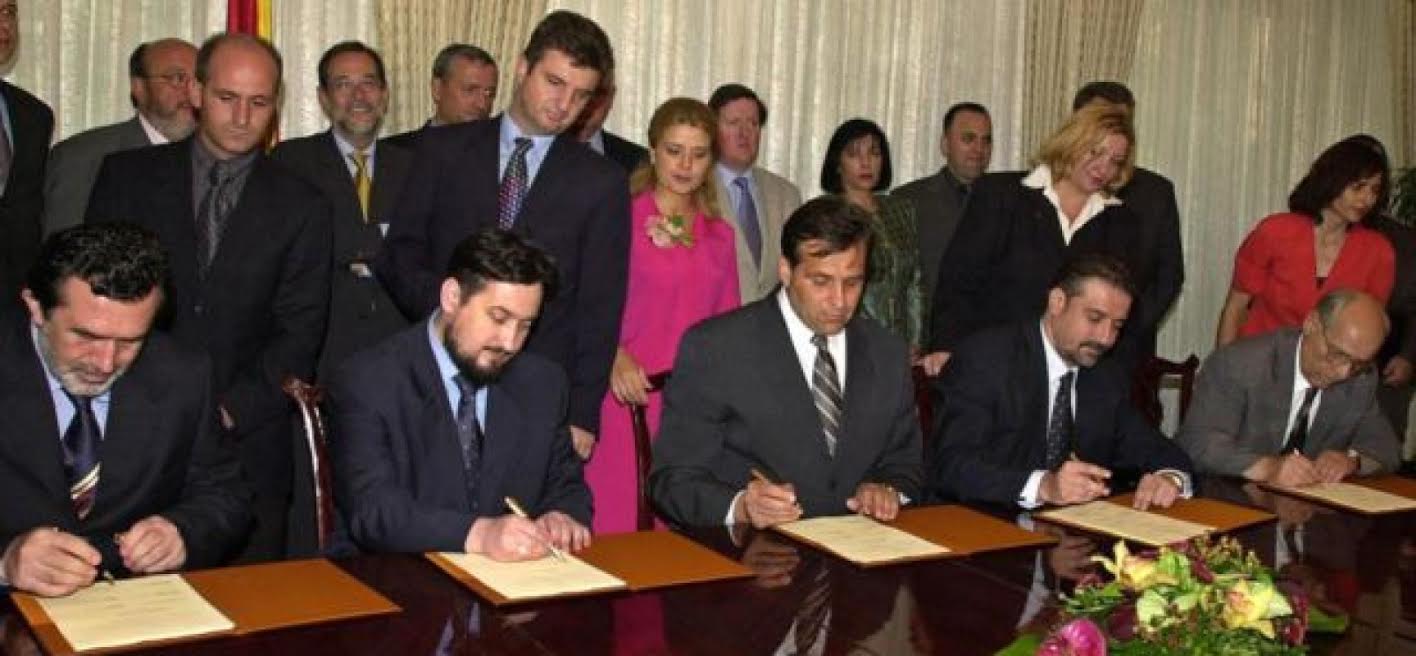 IBNA Special Report
Skopje, August 13, 2014/Independent Balkan News Agency
By Naser Pajaziti
Today marks the 13th anniversary of the peaceful Ohrid Agreement, which put an end to the 2001 armed conflict between Albanians, who were organized under the military formation of National Liberation Army and Macedonian security forces.
This agreement which was then incorporated in the Constitution of the country, put an end to a five month conflict, which could have led to bloodshed and massive consequences for the country.
But, today, 13 years after, its application in practice faces many challenges. Albanian parties are still unhappy with it.
The full implementation of this agreement has not taken place in many institutions of the country, as far as the increase of the representation of Albanians in the state administration is concerned.
Problems with its application also relate to the application of the laws.
The law on the languages and flag, partially makes the Albanian language an official language, by not including the entire territory of the country.
Albanian language is an official language where the Albanian community consists of 20% of the population, while its implementation in the central institutions has not been yet done.
The law on the use of the flag enables its use in communes where Albanians make up for 50% of the population, but with the recent legal changes, the Albanian flag is three times smaller than the Macedonian flag.
Politics divided into ethnic streams
Democratic Union for Integration (BDI), which was formed after the conflict by military structures of NLA, often refers to this agreement, underlining that great achievements have been made among Albanians.
But, this party and its leaders, have failed to implement it during the past 10 years in power. Responsible deputy prime minister for the implementation of this agreement, Musa Xhaferri says that it's necessary to conduct a real analyses and an adequate assessment of the problems that the implementation of this process faces.
"In Macedonia, there are still two different approaches as to the implementation and interpretation of this agreement. Macedonians believe that its implementation has been done, while Albanians believe that this agreement has not been implemented and that there are constant problems. It's time to have a serious debate on this issue, where both sides must show trust and work together to implement it", said Musa Xhaferri.
Albanian opposition continues to express its criticism toward this agreement, considering it as a failed agreement 13 years after the end of the conflict.
Biggest Albanian opposition party PDSH (Albanian Democratic Party) says that the Ohrid Agreement is now obsolete and that this party offers the "New Political Agreement", which according to them, aims at addressing the problems of Albanians in FYROM.
"The new agreement sets new standards on the Albanian issues in Macedonia and the solution to these issues would solve issues which have remained pending for all these years", says Mirushe Hoxha, senior party member at PDSH.
Macedonian parties say that this agreement has been finalized and implemented. This is also the opinion of the party in power, VMRO-DPMNE of prime minister Nikola Gruevski.
"Everyone sees this agreement from his own perspective and this agreement has now turned into constitutional and legal norms. While Albanian politicians want to read this agreement in a different way and want it to be expanded, Macedonian politicians believe that it's been given more than it has been taken back in terms of rights. We must develop capacities for a better management of the agreement", says the vice speaker of parliament and former foreign minister Antonio Milososki.
Analysts demand more efforts
On this 13th anniversary which marks the signature of the Ohrid Agreement, analysts have their opinions about the positive and negative sides that this document brought.
Analyst Sasho Klekovski told IBNA that the benefits of the Ohrid Agreement have been great, especially in terms of easing up divisions among ethnic communities.
Nevertheless, according to him, one of the main problem that society will face relates to the ethnic orientation of political parties, which due to the ethnic and non ideological race, often spark tensions.
"This ethnic and non ideological orientation of political parties is a generator of cross ethnic crises, as the race doesn't consist on better ideological projects, but an ethnic race, something which causes tensions in cross ethnic relations. The Ohrid Agreement will not benefit poor social classes and for as long as there is no reduction of unemployment, poverty, the potential for conflict may be repeated. I believe that what we see as a cross ethnic conflict has its roots on social problems that we must resolve", says Klekovski.
University professor, Alajdin Demiri says that 13 years after the signature of the Ohrid Agreement, the process is still at its initial stage of implementation. According to him, the Macedonian side is to be blamed for this, as it's not interested in applying this document.
"This agreement which came out of the war was signed between the government of Macedonia and Albanians, but this agreement cannot be implement it, because Macedonians don't want to implement it. When one party is not interested in it, then this agreement cannot be implemented. In this situation, 13 years after the conflict, this agreement is still considered to be at its initial stage, where there are no capacities for implementation", declared university professor, Alajdin Demiri.
International community continues to offer a strong support for the agreement. The agreement was achieved on August 13, 2001 in the presidential residence in Ohrid and was signed by former president of FYROM, Boris Trajkovski, former leader of VMRO-DPMNE and former prime minister, Lubco Georgievski, head of PPD, Imer Imeri, head of PDSH, Arber Xhaferi and head of LSDM, Branko Crvenkovski. The agreement was also signed by special representatives of USA and EU, James Pardew and Francois Leotar. /ibna/