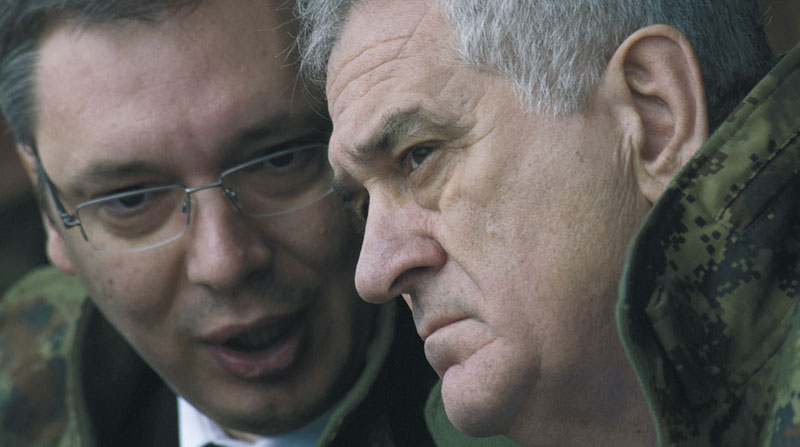 By Miloš Mitrović – Belgrade
"Media speculations that suggest I am trying to undermine the Serbian Progressive Party`s (SNS) president Aleksandar Vučić are complete nonsense.  Vučić and I have been on the same side for 30 years and now we closely cooperate in fight against the mafia", Oliver Antić, advisor of Serbian President Tomislav Nikolić said to Belgrade`s "Danas" daily.
In recent months, media accounts put an emphasis on alleged inside party rivalry between Vučić, who is Deputy Prime Minister and Nikolić, former SNS leader`s supporters. After he gained Serbian Presidency in 2012, Nikolić has frozen his party membership.
"The more our fight against these criminal groups stronger, the more their attacks on us gets serious. I have already told the police that they should pay attention on the certain criminal item if something happens to me", Oliver Antić stressed, adding he would sue the media which report about his alleged dissatisfaction with regard to Vučić`s leadership.
According to some reports, Antić and Progressive MP Vladimir Cvijan were creating the fraction inside the party. Cvijan has been the advisor of the former Serbian President Boris Tadić and official of his Democratic Party (DS). Cvijan came in conflict with his former party at the time it was in power. Eventually, he became the member of the Progressives.
Cvijan confirmed that he was opposed to "politically motivated arrestments", alluding to the recent detention of the former mayor of Novi Sad Borislav Novaković (DS) and businessman Petar Matijević as well. Cvijan told "Danas" that "the popularity of SNS cannot be based on the arrestments of political rivals".
"We have to think about the message we send by both putting the people under detentions and ruining the lives of our political opponents and their families", Cvijan emphasized. "As I lawyer, I believe that the charges against Novaković and Matijević are senseless. That does not mean that I am undermining Aleksandar Vučić. I would not do so until Vučić respects the Constitution. On the other hand, I am not ready to support the autocracy and disciplining of Serbia".
Cvijan said there were party members which share his position. Furthermore, Cvijan confirmed that he has recently met tycoon Miroslav Mišković, charged of abuse of office and tax evasion. 2012 detention of Mišković, the Forbes list billionaire, was a basis for the flourish of Vučić`s public ratings. As a Deputy PM, Vučić is in charge for the fight against the corruption.
Radomir Nikolić, SNS chief executive, suggested that party organs would assess whether Cvijan has broke party discipline. Radomir Nikolić is President`s Nikolić son.
At this moment, it does not seem that Cvijan would gain any support for his position among the party membership. However, it is not clear whether his remarks represent the wider scope of dissatisfaction in the party.  On Sunday, SNS won the majority at the local elections in Vrbas municipality. They gained 18 councilors in the local parliament, out of 36.