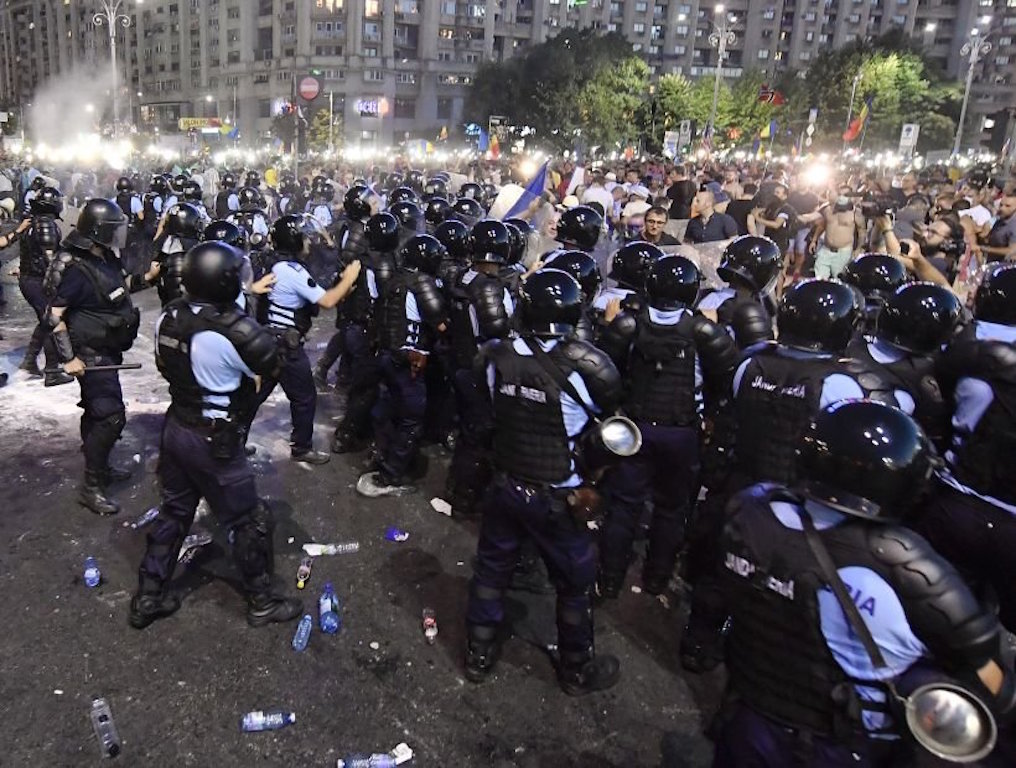 Local media in Romania report on the the police holding two men following the violent after clashes during Friday's diaspora anti-government protest in Bucharest, between groups of hooligans and the riot police.
Digi24 reported on two men, aged 24 and 30, who have been charged with assault and disturbing the peace.
Apart from what Interior minister Carmen Dan said on Saturday regarding the 64 operative teams made of police officers and prosecutors who have been working on identifying the one's who caused the Friday violence, the military prosecutors, romania-insider.com reads "are also investigating the way the riot police intervened on Friday evening as many accused the gendarmes of acting with disproportionate force against the protesters in Victoriei Square."
International, independent media have not stopped speaking of excessive and brutal force against protesters that was used by the authorities, in order to push them back, far from the parliament.
However, apparently the only think they did achieve was to frustrate people more, prompting fresh protests and, this time, not only Bucharest. Foreign journalists covering the event said that rally participants kept coming back to the main square withstanding police action.
DW has reported that "A small group of rioters attempted to storm the government building and clashed with police. The security forces responded with overwhelming force, using tear gas and water cannon. More than 450 people were injured, including a DW correspondent who was beaten by police. Several gendarmes were also injured."
After logically asking "What happens next?", the web page of the German news network, reads that "Tensions remain high in Romania, and were further stoked after one state official said on Facebook that protesters "should have been shot" instead of soaked with water cannon. Separately, PSD lawmaker Catalin Radulescu threatened to bring "a million" PSD supporters to Bucharest and "stamp out" government opponents, according to the Austrian Der Standard."
As for strongman, Liviu Dragnea, leader of the ruling PSD party, he wrote an open letter, repudiating the mass rally's demands (Friday's rally) and rejecting what protesters wanted him to do: resign.
"I want to assure all Romanians that parliament will not allow anybody to dissolve democracy, suspend individual rights and freedoms, change the outcome of the elections and overthrow order in the Romanian state through violence", Dragnea said in his letter.
What upsets most Romanians who do not support the government is the fact that, as they have repeatedly noted, the country is regressing bringing to their memory less democratic times of their recent history…. / IBNA