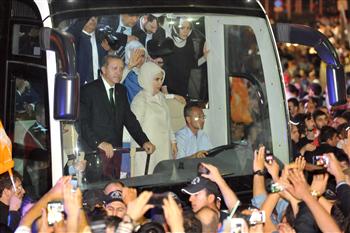 More than 10,000 supporters of Prime Minister Recep Tayyip Erdoğan flocked to Istanbul's Atatürk Airport to greet him on his return from his four-day trip to North Africa in a show of solidarity with the country's most influential politician over ongoing Gezi Park protests that have shaken Turkey in the last 10 days.
In the first extensive public show of support since anti-government protests erupted last week, Erdoğan delivered a fiery speech on his return and said, "These protests that are bordering on illegality must come to an end as of now".
Tens of thousands of protesters have held demonstrations that have spread to dozens of cities across Turkey, sparked by the violent police reaction last Friday to what started out as a small protest against a plan to develop Istanbul's central Taksim Square.