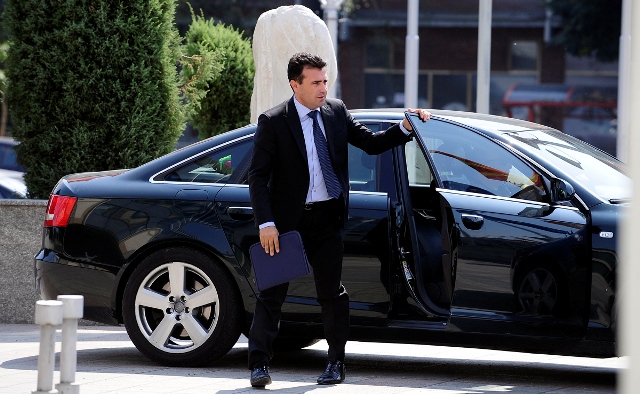 IBNA Special Report
Skopje, February 25, 2015/ Independent Balkan News Agency
By Naser Pajaziti
Leader of Macedonian opposition, Zoran Zaev published other materials today relating to the eavesdropping of over 100 journalists in FYR Macedonia by the secret services.
"What we're publishing today is outrageous. Over 100 journalists have been eavesdropped by secret services. These journalists worked for pro government media and also professional journalists who are critical about developments in Macedonia", declared Zaev.
According to him, the journalist that has been eavesdropped the most is Nikola Mladenov, who lost his life two years ago in a road accident near Skopje. Zaev said that special files had been prepared for him, which would not be published, but be given to his family.
In the news conference, the opposition leader published six materials, which were mainly conversations of senior state leaders. The first material showed a conversation between Interior Minister, Gordana Jankulovska and Martin Protuger, PM Gruevski's cabinet chief, who were preparing to publish on the media a particular material. The other eavesdropping materials relate to the intervention of ministers on the media, demanding the broadcast of government propaganda materials, orders for removal of journalists and for programs not to be broadcasted.
The Macedonian opposition also published a material which relates to a conversation of PM Nikola Gruevski with the Minister of Transport and Telecommunications, Mile Janakievski. In this conversation, Gruevski demands from the minister to urgently make a payment of 500 thousand Euros to the Agency for Electronic Communications for what is claimed to be the realization of several patriotic programs.
Opposition leader, Zoran Zaev said that in the days to come, he will continue to publish other materials. According to him, over 20 thousand citizens have been under the surveillence of the current region of PM Nikola Gruevski.
Gruevski:  The eavesdropping has been made by secret services, we have arrested two main suspects
PM Nikola Gruevski delivered a news conference today where he reacted about the materials published by the opposition and its leader, Zoran Zaev.
"I'm here to answer to all questions. In our meetings, Zaev informed me on these conversations. There were also inaccurate and fixed materials. This is why I say that there are accurate, half accurate and not at all accurate conversations. The registrations have been made by foreign secret services with the help of a person who has been arrested now. The aim was to send the materials abroad. The Ministry of Interior has discovered who has done the registrations possessed by Zaev. They are two persons who have assisted the person initialed Z.V and today, they have admitted their involvement before the court . The opposition has no evidence whatsoever that the registrations have been made by us", declared PM Nikola Gruevski.
According to him, the registrations have been made with a special instrument by well trained people.
"Zoran Zaev is an instrument of foreign services. It's not true that we have accepted the formation of a technical government in the meetings that I've had with Zaev. These are speculations", Gruevski said. /ibna/