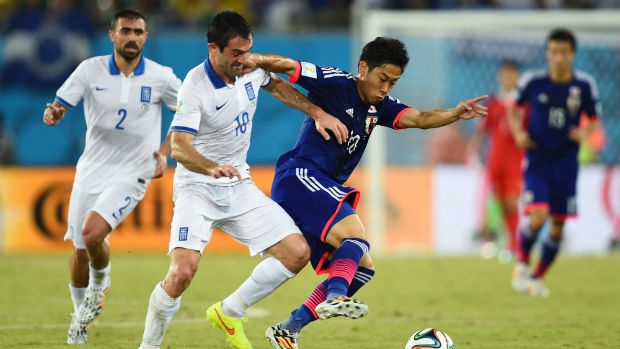 By Spiros Sideris
Japan and Greece played out a 0-0 draw in their World Cup Group C clash in Natal.
It proved to be a superb rearguard action from Greece, who had to play for the best part of an hour with 10 men following the unneeded dismissal of captain Kostas Katsouranis with a second yellow.
The Greek National team used the good old recipe. Good inhibitory function, with at least 9 players behind the ball, and attemptst for quick counterattacks with the pressure a bit higher than that in the game with Colombia. At least at the start of the game.
Defencively Greece closed down spaces and provided no clear opportunities for the Japanese who had a hard time setting foot inside the penalty box. In the creative aspect of their game however, things proved more difficult. Kone's shot, when he found the opportunity run with the ball, was the only notable attacking attempt until the silly sending off of Katsouranis in 38′.
After this event (and while National had already made one forced change with Gekas passes in place Mitroglou) Santos' improved alertness and increase the degree of passion in an attempt to fill the gap. Greece suddenly gained meters up the pitch and Torosidis missed the best chance of the first half with Kawashima saving brilliantly in 40′. Two minutes later, Santos felt the need to make a second change to more effectively shield the midfield (Karagounis instead of Fetfatzidis).
The second half of the game went exactly as Greece wanted it to, at a very low tempo. Well organized at the back, with Karagounis offering substantial defencive assistance, Santos' team minimized the thills in the game, at least up to 65′. Greece even even lost an excellent opportunity to 56 'when from the corner of Karagounis, Gekas forced Kawashima to a new save.
In the final third of the game (in the presence of Kagawa) the Japanese became more dangerous, taking advantage of the fatigue of the Greek footballers. Japan tried hard to find the breakthrough, but they lacked cutting edge in the final third and are now on the back foot in terms of qualification.
"We were good in terms of determination, courage and defence, but we weren't able to counter-attack… Without the red card we probably could have won the game", Greece coach Fernando Santos said.
The point the Greeks earned could yet prove invaluable. They face Ivory Coast in their final game, knowing a win will be enough to take them through to the knockout stages provided Group leaders Colombia do not lose to Japan.