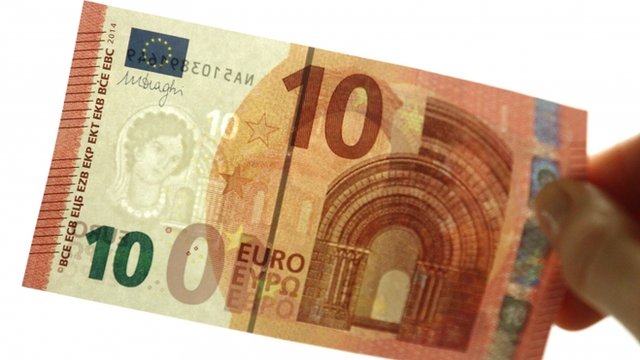 By Spiros Sideris – Athens
From today Tuesday, September 23, will be put into circulation the new 10euro bill of the "Europe" series, as was announced by the European Central Bank.
The new bill 10euro has several enhanced security features and a new look. The hologram and watermark containing a portrait of Europe, a form of the greek mythology. Another feature is the number with a dark green color.
When the banknote is angled in the gloss number it is created a sense of movement of the light from top to bottom and vice versa.
Also, the number will change color from dark green to deep blue. Thanks to these and other characteristics of the authenticity of the new banknote of 10 Euros verified easily by the method of three controls (control by touch, visual inspection and examination at an angle), the statement said the ECB.
The national central banks of the euro area ensured ECB that they have made every reasonable effort within their duties, in order to facilitate the adjustment of processing equipment banknotes in their own countries, so that all the machines to accept the new banknote.
"It is essential that all those who use the euro banknotes continue to do so with absolute confidence. This is precisely why we introduce the series 'Europe' "said Yves Merce, a member of the Executive Board of the ECB, which is responsible for banknotes.
"To ensure that the introduction of the new banknote of 10 Euros will be made as smoothly as possible, all owners of banknote are processing equipment to ensure that their machines accept the new banknotes", added Mr. Merce.
The 10 euro banknotes of the first series will continue to be issued, until reserves are exhausted. They will circulate alongside the 10-euro banknotes of the "Europe" series, and later they will cease to be valid money. This change will be announced in due time.