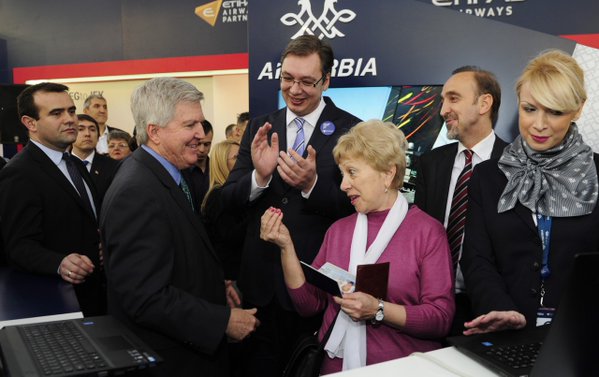 Belgrade, February 18, 2016/Independent Balkan News Agency
By Milos Mitrovic
Serbian Prime Minister Aleksandar Vucic, US ambassador Kyle Scott and one citizen have booked today first tickets for Belgrade-New York-Belgrade flights, promoting direct line between two cities reintroduced after 25 years. The price of 399 euros is offered during the promotion period which will last seven days starting today. The first Air Serbia flight will be on June 23.
The price for business class is 2.499 euros with taxes included.
The most important would be, Vucic suggested, that Belgrade would become centre of the region and that people from Bosnia and Herzegovina, Croatia, Slovenia, Albania and Greece would be coming to Serbia in order to fly to New York directly.
"No more layovers – maybe this is not big news, but it is big step for Serbia and it will improved its reputation", Vucic said at the tourism fair in Belgrade.
He added that the new line would attract number of investors to Serbia.
Ambassador Scott said that he hopes more Americans would visit Serbia.
Air Serbia CEO Dane Kondic acknowledged that there would be five flights weekly. The planes that would fly for US would be transported to Serbia in May, Kondic said.
The training of pilots and stuff has already started.