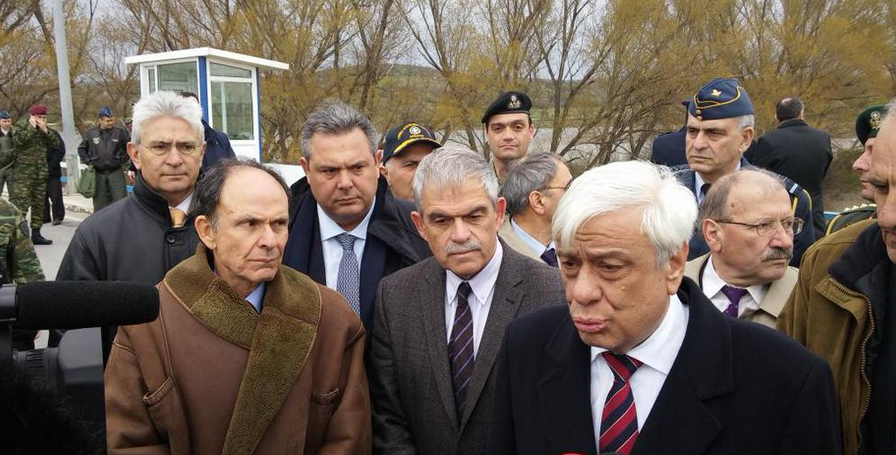 Athens, April 10, 2015/ Independent Balkan News Agency
By Spiros Sideris
President of the Greek Republic Prokopis Pavlopoulos spoke on the phone with Turkish President Recep Tayyip Erdogan during his visit at the outpost of the bridge of the Gardens of the Evros.
According to AMNA,  Pavlopoulos sent a message of friendship and peaceful coexistence of the two peoples and told Erdogan that he expects progress on the issues that exist between the two countries in accordance with international law, to enable the positive response to the invitation the Turkish president has extended to him for a visit to Ankara.
Before that Pavlopoulos had expressed his wishes to the Greek soldiers and officers serving at the post and then walked up the middle of the bridge and exchanged greetings with the Turkish soldiers and the Turkish prefect and officials from the other side of the border.
In his statements, Prokopis Pavlopoulos recognised the role of the armed forces for the country's security and the critical immigration issue, stressing the need for a solution come up with a solution together with the European partners.
Speaking not residents of Ormenio the President said inter alia:
"I want you to know that we recognise your contribution and the symbolism of your presence and your actions here. Both the Greek State and the European Union acknowledges it. Because I remind you that you are citizens of Greece, part of its history, but many years European Union citizens as well. Together with the European peoples we will move forward to address all these issues. So your duty is also the duty of the European Institutions, for economic development, to address the major issues arising from illegal immigration, so that you can give that which you have sworn to give and which I know that you can offer".