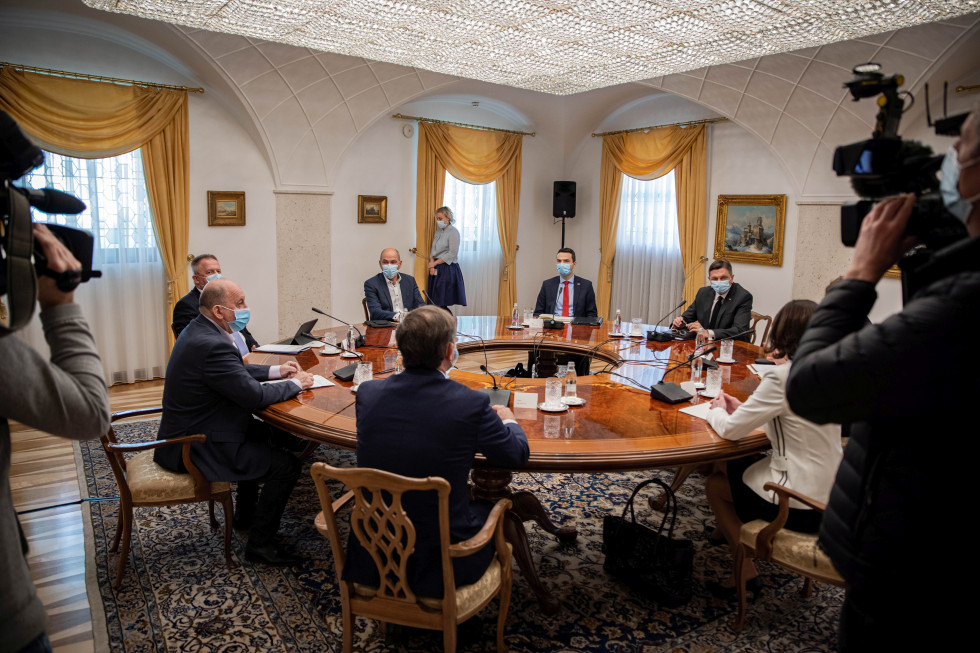 President of Slovenia Borut Pahor met today in Brdo pri Kranju with the presidents of the parliamentary parties to discuss the way out of the coronavirus crisis and the issues of the EU presidency.
At the press conference, the president announced that he had agreed with the party presidents that he and Prime Minister Janez Jansa would hold political and professional consultations in the first half of March on Brdo pri Kranju, in order to find a common language on the exit strategy. Several party presidents characterized today's conversation useful, noting however they clearly did not achieve significant convergence in their positions or easement of political tensions.
The meeting was attended by Janez Janša (SDS), Tanja Fajon (SD), Zdravko Počivalšek (SMC), Matej Tonin (NSI), Karl Erjavec (DeSUS), Alenka Bratušek (SAB) and Zmago Jelinčič Plemeniti (SNS). The invitation to the meeting was rejected by LMS president Marjan Sharec and the coordinator of the Left Luka Mesec. Today, Prime Minister Janša sent a draft agreement on cooperation to the presidents of the parliamentary parties.
President Pahor said that today's meeting met his expectations. "Given the toxic political climate, the debate, which dragged on longer than we all planned, was at a high level of political culture, despite fewer bilateral meetings and preparations for this meeting. It was inclusive and respectful, despite the fact that it was controversial at times. I am saddened that the two parties did not come, but I respect their decision," Pahor said.
"All sides have agreed, and I think it's important that this is a common understanding, that trust and cooperation is a two-way street. You can't just expect others to trust you and understand your views, but you also have to be willing to do your best to trust those who have different political views," said Pahor, who is convinced that Slovenia can successfully overcome the COVID-19 epidemic.
"Although there was an idea to consider early elections, that a new draft agreement on cooperation is on the table and that there are some reservations in that regard, we agreed on a very important thing. Namely, in the first half of March, we will prepare consultations of the political and professional public in Brdo pri Kranju in order to achieve some basic views on the exit strategy," Pahor said. All leaders of parliamentary parties, parliamentary groups and professionals from the public will be invited to the consultations.
Prime Minister Janez Janša believed that today's conversation was useful. "It's harder to say that it was successful, but the conversation never hurts," Janša said. The Prime Minister said that many questions were raise and he hopes that some dilemmas have been answered. The coalition, he said, had a slightly higher ambition to cooperate than the opposition. Based on today's answers from the opposition, Janša cannot conclude whether the possibility of cooperation is greater today than last year. /ibna